When Hawkeye Greats By the Numbers came out in 2010, I was excited but nervous.  I had put a lot of time and energy into the book, and I really felt it was solid.  Still, it was my first book, and I just didn't know how it would be received by Hawkeye fans.  More than anything, George Wine put my mind at ease.
George Wine
If that name George Wine sounds familiar to you, it might be because Wine made national news as a Harris Poll voter in 2011.  Wine drew the ire of the anti-BCS crowd when he voted Oklahoma State sixth in the poll, which is used in the BCS to determine which two teams play in the national title game.  By placing the Cowboys sixth, Wine became a symbol of everything wrong with the BCS to all the Dan Wetzel wannabes who were pushing for a playoff system.
Of course, Wine was merely giving his opinion in what is inarguably an opinion poll, and his reasoning for putting Oklahoma State sixth (he argued that their loss to 6-6 Ames was a worse loss than those suffered by the nation's other one-loss teams…and he was right) made intuitive sense, whether you agreed with it or not.  But George Wine was cast as a "typical out-of-touch BCS voter" by national pundits for a while, taking the brunt of fans' frustrations over a system he neither condoned nor helped set up.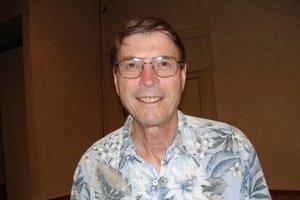 It's pretty sad that many fans nationally only know of Wine in relation to that event, because in reality, few men in sports media have done it better or longer than George Wine.  The label "Iowa legend" certainly applies to the Hawkeyes' longtime sports information director from 1968-1993.  Wine is a member of the University of Iowa Media Wall of Fame, which recognizes those who have provided outstanding coverage of Iowa athletics over a long period of time.  Wine may know more about the Iowa Hawkeyes than anyone around; he is a living encyclopedia on Hawkeye sports.
Wine also isn't shy about expressing his opinions, as the media found out when he offered a scathing criticism of the BCS system in the wake of his Harris Poll vote.  He shares many of those opinions in his popular column on Hawkeyesports.com called "Wine Online."
George Wine's Review
So you can understand why I was nervous when I learned that Wine was going to be giving his feedback on Hawkeye Greats By the Numbers.  Many writers don't want to admit this, but there are some people out there that you really hope your book impresses.  For me, George Wine was near the top of that list.
You see, Wine is also a Hawkeye author himself.  To be the best Hawkeye writer I can be, I have read almost every book on Hawkeye sports that has ever been written.  Some of them are great, some are less so.  The latter I tend to try not to talk about much, but I'm always excited to tell Hawkeye fans about the former.  Wine wrote a fantastic book, Black and Gold Memories, that was released in 2003.  It contains a collection of essays he wrote on a wide spectrum of historical sports topics.  Nearly a decade later, I would still rank it as one of the greatest books ever written about Hawkeye sports.  As if that weren't enough, Wine also ghostwrote Hayden Fry's terrific autobiography, A High Porch Picnic.
When we sent a copy of Hawkeye Greats to Wine, we were intensely hoping that he would have something nice to say about it (as opposed to saying something bad about it or worse, nothing at all!)  I was ecstatic when Wine wrote a very nice review of the book for Wine Online.  Probably my personal favorite part of the review was this line:
"Each chapter is loaded with interesting anecdotes, facts, figures, photos, and illustrations.  For instance, I did not know that Fred 'Duke' Slater, Iowa's first consensus black All-American in 1921, was the son of a Methodist minister.  I did not know he got his nickname as a youngster from his beloved dog Duke."
Since I wrote the chapter on Duke Slater, that comment made my jaw drop a little.  Reading that you wrote something about the Hawkeyes that George Wine didn't know was like telling Eric Clapton something he didn't know about the guitar or Mike Chapman something he didn't know about wrestling.  That's unreal stuff, and pretty darn cool.
Anyway, I knew if George Wine found something unique about the book, any Hawkeye fan could.  And whatever apprehension I might have had about releasing my debut book went by the wayside.  Many thanks to George Wine for making that happen.
Tagged with: A High Porch Picnic • BCS • Black and Gold Memories • college football playoffs • Dan Wetzel • Duke Slater • George Wine • Harris Poll • Hawkeye Greats By the Numbers • HawkeyeSports.com • Hayden Fry • Iowa Sports Information Department • Mike Chapman • University of Iowa Media Wall of Fame • Wine Online
Filed under: Hawkeye Greats By The Numbers • Reviews
Like this post? Subscribe to my RSS feed and get loads more!