My co-authors and I interviewed sixty of the biggest names in Hawkeye sports for our book, Hawkeye Greats, By the Numbers.   These interviews included both former athletes and members of the Iowa media.  One of the highlights was talking with Hawkeye institutions like Jim Zabel, Bob Brooks, and Ron Gonder.  Everyone we spoke with was great, but Gonder stood out as a truly classy guy.
Ron Gonder's background
Ron Gonder grew up in Youngstown, New York, where he became a fan of the Toronto Maple Leafs.  As a young boy listening to hockey over the radio, Gonder fell in love with play-by-play.  He wound up in Cedar Rapids by 1969, working under WMT's terrific sports director, Tait Cummins.  When Cummins retired two years later, Gonder took over as sports director and began a long career doing play-by-play on WMT for Iowa football and basketball.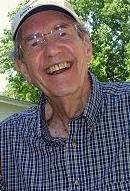 Gonder stands 6'5″ tall and has remarkably big feet.  His feet are so large, in fact, that he was nicknamed "The Big Shoe."  Gonder announced Hawkeye games on the radio for over thirty years, usually alongside former Iowa star Mike Reilly.  "The Big Shoe" and "Charlie Linebacker," as Reilly was known, were a hit with Hawkeye fans across Iowa.  Many people don't know this, but when Learfield bought the exclusive radio rights for Iowa sports, the Cedar Rapids Gazette conducted a poll to see who Iowa fans wanted to take over the sole play-by-play job.  Ron Gonder was the runaway winner, easily beating out Zabel and Brooks in the voting.  (The job, of course, eventually went to Gary Dolphin.)
Ron Gonder and Hawkeye Greats
Even today, Ron Gonder still has a very popular segment on WMT Radio called Footprints from "The Big Shoe."  When Hawkeye Greats, By the Numbers was released, he offered to tell his listeners about it on his Footprints program.  In his review, Gonder was intrigued by how we selected the greatest athlete for each jersey number.
"What these young authors have done is create a debate for the reader because they've made a judgment on who they think is the greatest Hawkeye athlete at each of those uniform numbers with others that they considered at those numbers listed as honorable mentions. This means in many cases some football players are picked as the greatest over basketball players wearing those same uniform numbers and vice versa, all of which allows the reader to get in on the debate…

Each of the author's selections as the greatest Hawkeye at that uniform number is backed up by a detailed story of that player's career with quotes on him from others like me. All of which makes for fun reading in a concept I'd never heard of before in a sports book."
The full text of his review will be posted shortly on the reviews page, but many thanks to The Big Shoe for taking the time to look over Hawkeye Greats, By the Numbers.
Tagged with: Bob Brooks • Cedar Rapids Gazette • Footprints from The Big Shoe • Gary Dolphin • Hawkeye basketball • Hawkeye football • Hawkeye Greats By the Numbers • Hawkeye jersey numbers • Jim Zabel • Mike Reilly • Ron Gonder • Tait Cummins • Toronto Maple Leafs • WMT Radio
Filed under: Hawkeye Greats By The Numbers • Reviews
Like this post? Subscribe to my RSS feed and get loads more!