On August 9, 2011, What It Means to Be a Hawkeye was released by Triumph Books.  What It Means to Be a Hawkeye is made up entirely of first-person narratives from sixty former Hawkeye student-athletes, coaches, and administrators.
Each former player reflects back on the circumstances that led him to the University of Iowa, the big wins, the crushing defeats, how the university impacted his life after graduation, and what it means – to him – to be a Hawkeye.
About What It Means to Be a Hawkeye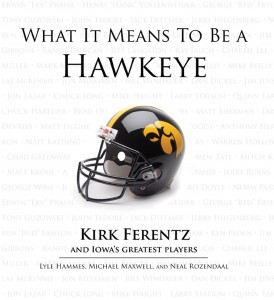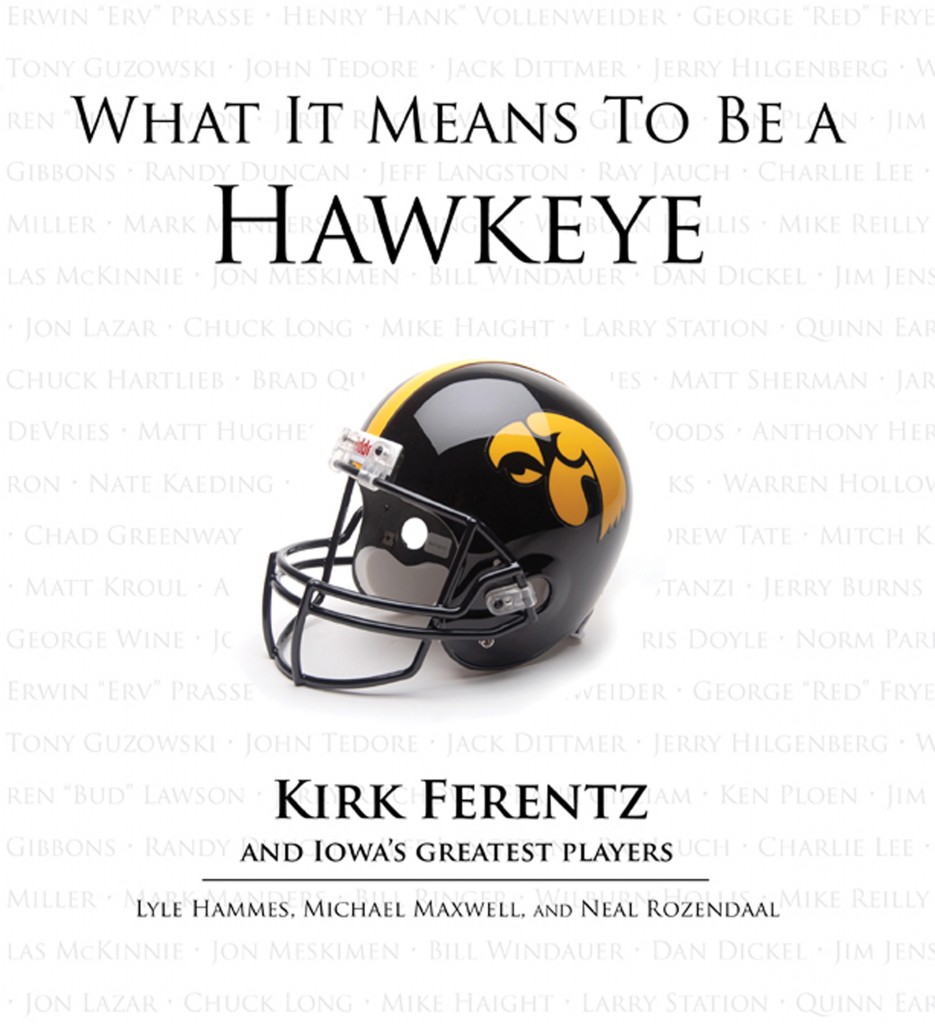 The sixty Hawkeyes interviewed span eight decades of Iowa football.  They range from George Frye and Henry Vollenweider, the two (then) surviving members Iowa's 1939 Ironmen, through Ricky Stanzi of the 2010 Hawkeye team.  Through their eyes, you can see the growth and development of the Iowa football program.
Coach Kirk Ferentz graciously provided a long and candid foreword for the book.  The foreword is a compilation of two separate interviews conducted by my co-authors Hammes and Maxwell.  I personally love the foreword – I think you can hear Kirk Ferentz' tone shine through the writing.  If you close your eyes, you can almost hear Ferentz reciting the foreword to you.
The only original writing in the book, really, was the introduction, which I wrote.  I'm proud of that introduction…I wanted to capture the spirit of what makes being a Hawkeye fan unique and special, and I hope I did so.
Once Again, More than Just Stars
Just as was the case for Hawkeye Greats, By the Numbers, What It Means to Be a Hawkeye features more than just the star players you would expect.  Oh, sure, you'll find Ken Ploen, Randy Duncan, Chuck Long, Larry Station, Brad Banks, Nate Kaeding, Chad Greenway, and so on all included in the book.
But you'll also find a few profiles you may not expect, like Tony Guzowski, who tells you the best school where you could scalp your tickets in 1948; Dan Dickel, a terrific player who had the misfortune of captaining Iowa's 0-11 team in 1973; and John Streif, Iowa's long-time assistant athletic trainer, who is by all accounts a marvelous yet humble person.  I love these under the radar stories, and I hope you Hawk fans out there enjoy them, too.
And guess what?  You can buy your copy of What It Means to Be a Hawkeye right here!  The price is $20, and as always, I'd be glad to autograph/personalize your copy if you want.  Just put your request in the notes section when you check out on Paypal.
Thanks for reading!
Tagged with: 1939 Ironmen • Brad Banks • Chad Greenway • Chuck Long • Dan Dickel • George "Red" Frye • Hawkeye Greats By the Numbers • Henry Vollenweider • John Streif • Ken Ploen • Kirk Ferentz • Larry Station • Lyle Hammes • Michael Maxwell • Nate Kaeding • Randy Duncan • Ricky Stanzi • Tony Guzowski • Triumph Books • What It Means to Be a Hawkeye
Filed under: What It Means To Be A Hawkeye
Like this post? Subscribe to my RSS feed and get loads more!