Ed Banach
Friday, July 27th, 2012 at 12:00 pm
(This is part of a special series on Hawkeye Olympic medalists.)
We kick off this series with the story of Ed Banach, one of the great early wrestlers in the Dan Gable era.
Ed Banach
Ed Banach is the older of a pair of twin brothers – his younger brother, Lou, was born five minutes later.  Ed and Lou were born in New Jersey in 1960 and were adopted by the Tooley family when they were young boys.  Joining them in the Tooley household were the twins' older brother, Steve Banach.  Ed credits his older brother Steve, a future wrestler at Iowa who later served for years in the Army, as a leader and mentor for him growing up.
Ed Banach followed Steve to Iowa and quickly became one of Iowa's most dominant wrestlers under Coach Dan Gable.  Nicknamed "The Horse," Banach set a goal for himself to become the first four-time NCAA champion in wrestling history.  He seemed well on his way to that goal, winning national championships as a freshman and sophomore in 1980 and 1981.  However, in his junior season in 1982, he was upset in the national championship match by Mark Schultz of Oklahoma State, ending his dream.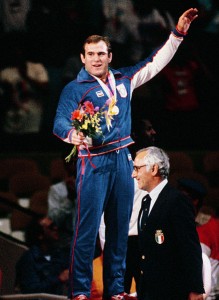 In the true fashion of any Gable protege, however, Ed Banach responded with a vengeance.  He began doing workouts at 4 AM, training like mad for his senior season.  He needed that intensity, because Ames had a wrestler named Mike Mann that seemed to have Banach's number.  Mann and Banach met three times during the 1983 regular season, and Mann came away victorious each time.  But in the last match of his college career, the 1983 NCAA championship match, Ed Banach defeated Mann in overtime, 4-3, to claim his third NCAA championship.
Banach left school as Iowa's first three-time national champion with a career record of 141-9-1.  He also recorded 73 pins, a school record that still stands today.  On top of all that, in 1983 he became the first Hawkeye to win the Big Ten Athlete of the Year Award, given annually to the top male athlete across all sports in the entire conference.
The Olympic Games
When Banach was a young boy, he had watched Gable dominate the 1972 Olympics.  Ever since then, he had dreamed of competing in the Olympics.  Twelve years later, Banach got his wish.  Wrestling at the 198 pound level, he made it all the way to the gold medal match, where he faced Akira Ohta of Japan.  You can watch the match below, but here's the spoiler: Banach dominates on his way to a 15-3 win.
A gold medal!  Banach was invited to meet President Reagan at the White House and made the obligatory trip to Disneyland.  But behind all the success there was a sad reality that only Banach and those close to him knew.  Banach suffered from 15 concussions during his wrestling career.  In fact, he was wrestling through a concussion during that entire gold medal victory.
Aftermath
Ed Banach went on to become an assistant wrestling coach at Ames from 1985 to 1989.  He interviewed for the Cyclones' head coaching job in 1986, but the job went to Jim Gibbons instead.  Banach suffered a concussion during practice in 1987, and it took him 14 months before the pain subsided to a tolerable level.  Fearing that the next concussion might be even worse, Banach retired from coaching in 1989.
Banach now works as the assistant director of compliance for Ames.  His association with wrestling is limited to cheering for his son, Riley Banach, who finished his sophomore year wrestling for Northern Iowa.
Ed Banach was inducted into the State of Iowa Hall of Fame, University of Iowa Hall of Fame, and National Wrestling Hall of Fame.  The Wrestling Hall of Fame called "The Horse" "a thoroughbred in all respects."  And he made Hawkeye fans everywhere proud by striking Olympic gold after his years in Iowa City.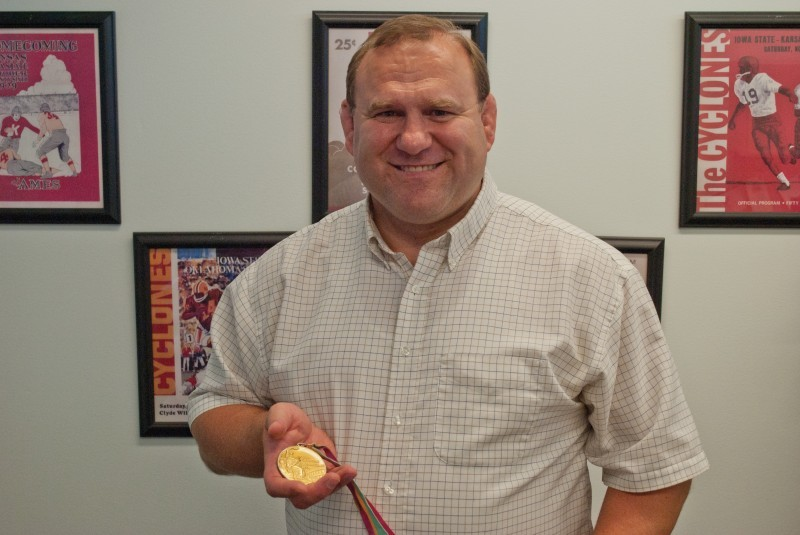 Tagged with: 1983 NCAA championship wrestling match • Big Ten Athlete of the Year • Dan Gable • Ed Banach • Hawkeye Olympians • Lou Banach • NCAA wrestling champion • Riley Banach • State of Iowa Hall of Fame • Steve Banach • University of Iowa Hall of Fame • Wrestling Hall of Fame
Filed under: Iowa Hawkeye Wrestling
Like this post? Subscribe to my RSS feed and get loads more!