(This is part of a special series on Hawkeye Olympic medalists.)
Since we started this series yesterday with Ed Banach, it makes sense to continue today with his twin brother, Lou Banach.
Lou Banach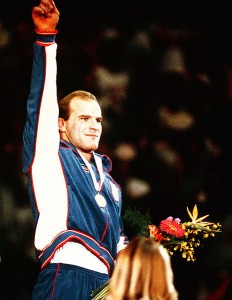 As mentioned in Ed Banach's post, Lou Banach was born five minutes after his twin brother.  Since they are twins, Lou's background is the same as Ed's, but they are far from the same person.  When Lou Banach arrived at Iowa, he had difficulty adjusting to big-time athletics.  He actually quit the Hawkeye wrestling team for a time.  But it's a testament to his talent and work ethic that when he changed his mind, Coach Dan Gable accepted him back onto the team without hesitation.
Lou Banach held down the heavyweight position for Gable's Hawkeyes and was a big reason for Iowa's success in the early-1980s.  He had a record of 92-14-3 over four years at Iowa.  Lou won two national championships with the Hawks in 1981 and 1983, and his brother conceded that Lou was even quicker, stronger, and more talented than he was.
The 1984 Olympics
Lou Banach wrestled in the heavyweight class of the 1984 Olympics.  His brother came away with the gold medal in those Olympics, and as it turned out, Lou also made it to the gold medal match against Syria's Joseph Atiyeh.  You can watch the match below and see that Lou was even more dominant than his brother had been in his match.  The spoiler here: Lou Banach actually pins Atiyeh on his way to the gold medal.
Lou got to take the trip to the White House to meet President Reagan and first lady Nancy Reagan.  This was a thrill for Banach, because he considered Ronald Reagan one of his idols.  Banach still keeps a framed, autographed photo of himself wearing his gold medal in Los Angeles and being congratulated by the Reagans.
Aftermath
While Ed Banach went into coaching, Lou Banach chose a different path.  Lou co-authored a book on wrestling with Mike Chapman titled The New Breed: Living Iowa Wrestling.  Banach had been a member of ROTC while at Iowa, and after the Olympics, he went on active duty, serving at West Point.
Later, he chose to go into business.  Banach earned an MBA from Penn State and began a long career in banking.  He now lives in southeast Wisconsin and works as the senior vice president of Wisconsin's second-largest bank.  Lou Banach is still in great shape and works out every day, but he is also a private person who doesn't go out of his way to talk about his Olympic glory.  He has channeled his competitive fire into his work for the bank.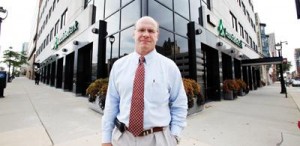 But Lou Banach is best remembered by Hawkeye fans for the athletic feats that led to his induction into the Wrestling Hall of Fame and the University of Iowa Hall of Fame.  As half of the fearsome Banach twins, Lou helped establish the Hawkeye wrestling program as a dynasty and brought a second Banach gold medal back to the States in 1984.
Tagged with: Dan Gable • Ed Banach • Hawkeye Olympians • Lou Banach • Mike Chapman • Nancy Reagan • Ronald Reagan • University of Iowa Hall of Fame • Wrestling Hall of Fame
Filed under: Iowa Hawkeye Wrestling
Like this post? Subscribe to my RSS feed and get loads more!