Randy Lewis
Monday, July 30th, 2012 at 6:00 am
(This is part of a special series on Hawkeye Olympic medalists.)
Earlier, we wrote about Ed Banach and Lou Banach, the twins who each claimed gold medals wrestling at the 1984 Olympics.  Today's athlete, Randy Lewis, takes us back to the mats of Los Angeles for another great moment at those Games.
Randy Lewis
In addition to being a great wrestler, Randy Lewis is an excellent storyteller.  One of his great stories involves competing in his first state wrestling tournament at age 12.
Lewis grew up in the shadow of Mount Rushmore in Rapid City, South Dakota.  He made it to a state wrestling tournament, and he was intimidated by the thought of going up against the best wrestlers in the state.  Lewis recalled:
"[My dad] told me not to think of them as the best kids in the state.  He said, 'What if they were from Rapid City, and they went to Meadowbrook Grade School?  What if they lived right next door to us?  If you couldn't beat them, then you wouldn't be Meadowbrook school champion.  You wouldn't be the toughest kid on your own block!  You are the toughest kid on the block, aren't you?'

I smiled and said, 'I sure am!'…I can vividly remember thinking that if [my opponent] lived in Rapid City, if he went to my grade school, and if he lived next door to me, I could beat him.  I knew I was the toughest kid on the block."
With that confidence, Randy Lewis went on to win that tournament and soon became a high school star.  He won three straight high school state championships in South Dakota, going 89-0 with 83 pins…including a national prep record 45 pins in a row.
He then joined Gable's Hawkeyes and made an immediate impact, reaching the NCAA finals at 126 pounds as a freshman.  The following two years, he proceeded to claim NCAA championships and put together a 74-match winning streak.  However, during his senior year, Lewis suffered a horribly dislocated elbow during a match.  Not one to give in, he wrestled out the rest of his season with virtually one arm and still managed to reach the NCAA tournament and place as an All-American for the fourth time.  Overall, he compiled a record of 127-11-1 with 64 pins and two national championships.
The 1984 Olympics
Randy Lewis actually qualified for the 1980 Olympics, but his Olympic dream was wiped out with the U.S. boycott of the Games that year.  For Lewis, the dream was only put on hold for four years, as he returned with the U.S. Olympic team in 1984.
He had to overcome a lot to reach Los Angeles, however.  Lewis won the final U.S. trials, only to have one of his victories overturned on protest.  He was beaten in the rematch and then injured, and he might have had his Olympic dream end for good right there.  But Lewis worked through the Olympic Committee's appeals procedures, and after arbitration, he was allowed to rejoin the team.
He responded with a vengeance, punishing everyone in his path in the 136.5 pound division.  Lewis outscored his first four opponents, 52-4, to reach the gold medal match against Kosei Akaishi of Japan.  You can watch the gold medal match here, but the spoiler of the match is this: Lewis defeated Akaishi, 24-11, to claim a gold medal for the United States.
Aftermath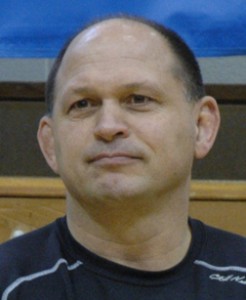 Lewis still had wrestling in his blood.  He narrowly missed qualifying for the 1988 Olympics, as he was defeated by John Smith at the U.S. Olympic Trials in an epic match.  Smith went on to win the gold medal.  Lewis later went into coaching and has mentored several elite wrestlers as a coach with the Hawkeye Wrestling Club.  He still captivates audiences with his detailed wrestling stories and recently made a comeback to competitive wrestling at 50 years old!
But Lewis will always be best remembered for his gold medal performance in Los Angeles in 1984.  In that moment, every man in the world lived on his street in Rapid City…and Randy Lewis was still the toughest kid on the block.
Tagged with: Ed Banach • Hawkeye Olympians • Hawkeye wrestling • Lou Banach • NCAA wrestling champion • Randy Lewis
Filed under: Iowa Hawkeye Wrestling
Like this post? Subscribe to my RSS feed and get loads more!