(This is part of a special series on Hawkeye Olympic medalists.)
Hawkeyes have competed in five different Olympic sports, but the most uncommon is men's basketball.  Only two Hawkeye basketball players have participated in the Olympic Games, and both of them were members of the 1956 Olympic team.  One of those Hawkeyes was Carl Cain, one of Iowa's Fabulous Five.
Carl Cain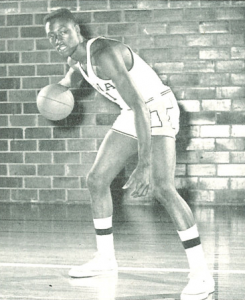 Carl Cain grew up in Freeport, Illinois, just down the street from McKinley "Deacon" Davis.  Davis was a year older than Cain, and together they led Freeport to the 1951 Illinois High School state basketball championship.  Iowa head basketball coach Bucky O'Connor reached out to Davis and convinced him to take a campus visit to Iowa City.  Davis in turn convinced Cain to come with him.  O'Connor not only sold Davis on the Hawkeyes, he sold Cain on them, too!
Cain teamed up with four other classmates – Bill Logan, Bill Seaberg, Bill Schoof, and Sharm Scheuerman – to form a group nicknamed the "Fabulous Five."  In 1953, the five sophomores helped guide Iowa to a second-place finish in the Big Ten.  However, in those days, only conference champions advanced to the NCAA Tournament.
The following year, juniors Logan, Seaberg, Scheuerman, and Cain lined up alongside senior Deacon Davis and powered the Hawkeyes to the Big Ten title.  The Hawks then advanced all the way to the school's first Final Four, losing in the national semifinals to defending NCAA champion LaSalle in heartbreaking fashion, 76-73.
In 1956, Schoof took Davis' place in the lineup, and the Fabulous Five had one of the greatest seasons in school history.  The team went on a winning streak through the Big Ten that lasted nearly two months, claiming a conference title in the process.  Back in the NCAA Tournament, the Fabulous Five again advanced to the Final Four.  This time, Iowa defeated Temple, 83-76, for the Hawkeyes' only victory in the Final Four.  But Iowa's only trip to the national title game was spoiled by the legendary Bill Russell and his University of San Francisco Dons.  They defeated the Hawks for the title, 83-71; Cain had 17 points and 12 rebounds in the loss.
The 1956 Olympics
 After a tremendous career in the black and gold, Cain was chosen for the 1956 Olympic basketball squad.  The Olympics were held in Melbourne, Australia, that year.  Team USA was the heavy favorite to win, and they quickly showed why.  The Americans steamrolled their competition, averaging nearly 100 points per game.  They cruised to a gold medal, winning all eight games by an average of 53.5 points per game.  But Cain paid a heavy price for his gold medal.
Carl Cain only played in two games for Team USA, scoring a total of three points.  He ruptured a disk in his back which not only hampered him during the Olympics, but it effectively ended his athletic career.  Cain had been drafted into the NBA, but the back injury he suffered during the 1956 Olympics kept him from ever playing pro basketball.
Aftermath
Cain returned to the United States, got married, and obtained a job as a probation officer in Los Angeles.  After about ten years, he moved into the insurance business and later became the Manager of Consumer Affairs for MidAmerican Energy.  Cain retired in 1995.
Carl Cain now lives in quiet retirement, and he remains modest about his accomplishments.  But while Cain has moved along in his life, he certainly left Iowa fans with some fabulous basketball memories.
Tagged with: Bill Logan • Bill Russell • Bill Schoof • Bill Seaberg • Bucky O'Connor • Carl Cain • Fabulous Five • Final Four • Hawkeye basketball • Hawkeye Olympians • McKinley "Deacon" Davis • National Basketball Association • NCAA Tournament • Sharm Scheuerman
Filed under: Iowa Hawkeye Basketball
Like this post? Subscribe to my RSS feed and get loads more!