Lincoln McIlravy
Thursday, August 2nd, 2012 at 12:00 pm
(This is part of a special series on Hawkeye Olympic medalists.)
We continue this series with wrestler Lincoln McIlravy, the most recent Hawkeye Olympic medalist.
Lincoln McIlravy
McIlravy took to the sport of wrestling early, joining his brothers Arthur and Clayton in his school's youth program.  Lincoln was only five, but he found he really liked the sport and began to practice relentlessly.  By high school, he had grown into a dominant wrestler.  McIlravy won five high school championships from 1988-1992 and compiled a record of 200-25.
Like so many before him, he turned to Dan Gable to get the most out of his athletic talents.  As a true freshman in 1993, he made it to the NCAA finals, where he faced Fresno State's Gerry Abas.  McIlravy won an epic match to secure his first NCAA championship, getting a takedown with just five seconds left to claim a 16-15 victory.  He was just the second freshman to win an NCAA championship.
Lincoln McIlravy repeated as an NCAA champion the following year, and he went on to amass a 52-match winning streak.  But at the end of his junior season, he was upset, 13-10, in the NCAA finals.  That deprived him of an opportunity to become the first four-time NCAA champion.
He then took a redshirt year and trained to make the 1996 Olympics.  After his bid to make the Olympic team fell short, he returned to the Hawkeyes for his senior season in 1997.  McIlravy ended his Iowa career by claiming his third NCAA championship.  He left school with an overall collegiate record of 96-3-12, the second-best winning percentage in school history.
The 2000 Olympics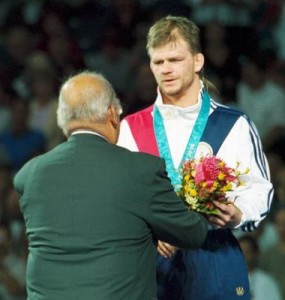 Lincoln McIlravy fell short of making the U.S. Olympic team in 1996.  Four years later, he was back for another try.  This time he qualified for the Olympics to be held in Sydney, Australia.
McIlravy competed at the 152 pound level in the 2000 Olympics.  He defeated wrestlers from Nigeria, Turkey, and Moldova to reach the Olympic semifinals.  But McIlravy lost in overtime to Canada's Daniel Igali, which ended his gold medal quest.  Igali went on to claim the gold.  Still, McIlravy rebounded to defeat Sergey Demchenko of Belarus in the bronze medal match, 3-1.
Aftermath
Lincoln McIlravy served as an assistant wrestling coach at the University of Iowa for a few years, but he quickly realized that the number of plum head coaching jobs in college wrestling were few and far between.  He found the number of good available jobs limiting, so he retired from coaching and decided to go into private business.
He considered buying a restaurant, but he gravitated toward hotels instead.  McIlravy opened an 81-room Comfort Suites hotel in Coralville in 2005; he plans to open another Coralville hotel this fall.  The Hawkeyes are fortunate that one of Iowa's greatest wrestlers remains an active part of the Iowa City business community.
Tagged with: Dan Gable • Hawkeye Olympians • Hawkeye wrestling • Lincoln McIlravy • NCAA wrestling champion
Filed under: Iowa Hawkeye Wrestling
Like this post? Subscribe to my RSS feed and get loads more!