I recently appeared on Gary Dolphin's radio show, The Dolph Report, to promote my latest book.  That got me curious about how "Dolph" came to become "The Voice of the Hawkeyes."
Gary Dolphin
Gary Dolphin grew up in Cascade, a small town in northeast Iowa.  He must have had excellent parents, because they were Iowa season ticket holders!  And they taught him a love of Hawkeye sports.
Dolph attended his first Iowa football game in 1961.  It was a 42-21 victory over Notre Dame which helped the 1961 Hawkeyes clinch a winning season…Iowa wouldn't have another for twenty years!  The first Hawkeye basketball game he attended was that same year, an 81-64 victory over Wisconsin in which Don Nelson scored a Field House record 35 points.
After high school, Dolphin attended Brown Institute in Minneapolis, and from there, he launched his career in broadcasting.  He started work for a radio station in Jacksonville, Illinois, in 1970, hosting a morning show and doing high school and small college play-by-play.  Within a year, he moved to Dubuque and joined radio station KDTH, where he became a local favorite.  Gary Dolphin still calls Dubuque home today, over four decades later.
Dolph kept stats for Red McAleece, KDTH's play-by-play voice for Hawkeye football and basketball.  When McAleece retired soon after, Dolphin succeeded him and called Iowa football and basketball for KDTH from 1972-1978.  That was his first taste of Hawkeye play-by-play.
He left in 1978 to become the sports director at KDUB-TV in Dubuque.  Dolph felt that television might be an upgrade over radio, but eight years later, he changed his mind.  Dolph grew frustrated with television; he said he hated working all day just to try to squeeze hours of work into a two-and-a-half minute sports segment on the local news broadcast.  That inevitably drove him back to the radio airwaves.
Around this time, former Hawkeye star linebacker and fellow Dubuque native Mike Reilly contacted Gary Dolphin with an interesting opportunity.  The local bank had created a marketing and public relations wing and wanted to hire people with a communications background.  Dolph was hired and started a job in banking that he still holds to this day…all in addition to his broadcasting duties.
Landing the Iowa Job
In 1990, Gary Dolphin was named the play-by-play radio announcer for Northwestern basketball.  He commuted to Chicago from Dubuque for roughly 26 basketball games a year, but it was an opportunity to get back into the Big Ten that Dolph couldn't resist.  He served in that capacity for six years until the school moved their radio broadcasts to WGN Radio in 1996.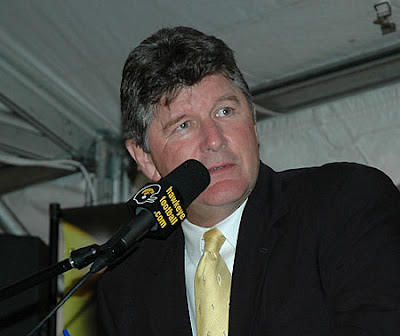 The following year, Dolph got a call from Mark Jennings, Iowa's associate athletic director.  Learfield Sports had purchased the exclusive radio rights to broadcast Hawkeye football and basketball, and they were consolidating all Hawkeye radio broadcasts into one official school network.  Gary Dolphin initially didn't apply for the Hawkeye radio job, because he felt sure that the school would hire one of the legends who had been covering the Hawks for years – specifically, Bob Brooks, Jim Zabel, or Ron Gonder.  Jennings informed Dolph that they were considering outside options and urged him to apply. He did…and landed the job as The Voice of the Hawkeyes.
Gary Dolphin started calling Hawkeye games in 1997.  In 1999, he and Gary Bender were the top two finalists to replace Wayne Larrivee as the radio play-by-play man of the Chicago Bears.  Dolph figured he could call Hawkeye games on Saturday and Bears games on Sunday.  However, the job went to Bender.
Bender left the position two years later, and Gary Dolphin was the Chicago Bears' top choice to replace him in 2001.  But this time, the Bears wanted to hire their play-by-play man on a full-time basis.  That meant Dolph would need to give up his job with the Hawkeyes, and that was a non-starter.  Gary Dolphin has been a Hawkeye to the core since he was 10 years old, so he turned down the Bears' opportunity to stick with the Hawkeyes.
The Voice of the Hawkeyes
I have a lot of respect for Coach Kirk Ferentz.  I don't think many people appreciate just how difficult it is to follow a legend like Hayden Fry.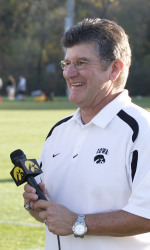 Now imagine if you had to follow not just one icon, but several all at once.  Gary Dolphin had the unenviable task of following Brooks, Gonder, Zabel, Frosty Mitchell, and who knows how many others as the radio voice of Hawkeye sports.  No one could have managed that task without taking a considerable amount of criticism, but Dolph has embraced the job as his own.  It's hard to imagine hearing a Hawkeye game today without the "Touchdown Iowa!" call when the Hawks cross into the end zone.
Last year, Dolph was diagnosed with prostate cancer, but he used the diagnosis as an opportunity to urge fans to get regular checkups and not neglect their personal health.  It's amazing to think that Gary Dolphin has been calling Iowa games for 16 seasons now.  Here's hoping he keeps at it for many, many years to come.
Tagged with: Bob Brooks • Chicago Bears • Frosty Mitchell • Gary Dolphin • Jim Zabel • Mike Reilly • Red McAleece • Ron Gonder • The Dolph Report • Wayne Larrivee
Filed under: Iowa Hawkeye Basketball • Iowa Hawkeye Football
Like this post? Subscribe to my RSS feed and get loads more!