As a Hawkeye author, I have a tremendous amount of respect for the wonderful sportswriters that have covered the Hawkeyes over the years.  While promoting my latest book the past few weeks, I've been blessed to be able to talk with Ron Maly, one of the best Iowa sportswriters ever.
Ron Maly
Ron Maly covered the Iowa sports scene for nearly four decades with the Des Moines Register.  He got his start in sportswriting early.  Maly, a Cedar Rapids native, was hired to cover high school sports for the Cedar Rapids Gazette at the age of 15.  He kept that job even as he attended the University of Iowa, where he graduated in 1958.  Maly worked forty hours a week for the Gazette while he was a student at Iowa, writing about high school games and volunteering to help the Gazette photographers at Hawkeye games.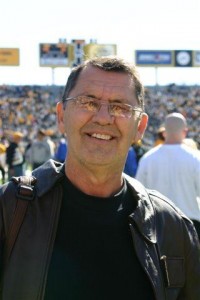 After one year as the sports editor of the Albert Lea (MN) Tribune, Maly was hired by the Des Moines Register, where he worked for the next 39 years and nine months.  Fans loved Maly's off-beat sense of humor.  He once dressed up and marched with the now-defunct Scottish Highlanders during a Hawkeye game in 1980.  That same year, when Johnny Orr left Michigan for the head coaching job in Ames, Bobby Knight asked Maly to take the day off and let him write Maly's column about Orr.
Ron Maly worked at the Register for three months shy of forty years when he abruptly retired.  Maly had been butting heads for some time with the Register's new editor, Dennis Ryerson.  One day in 1999, Ryerson accused Maly of plagiarizing part of a story on Ames' budget woes.  Rather than fight the charges, Maly decided he had had enough and quit.  Ryerson didn't last long at the Register; he left for the Indianapolis Star, where he was clearly beloved.
Retirement?
Ron Maly's long and decorated career in sportswriting, which included Iowa Sportswriter of the Year awards in 1977, 1978, 1994, and 1996, was over.  But Maly didn't slide into a quiet retirement…far from it.  He continued to write every day about sports and e-mail his columns to a list of fans.
He also posted these daily e-mails online, both at HawkeyeNation and on his own website.  That doesn't seem particularly newsworthy today, but bear in mind, we're talking about 2001, here.  Maly's blog started here (which is now defunct), moved here in 2003, and has been here since 2006.  I love following Hawkeye blogs, and I've seen dozens of good Iowa blogs pop up and disappear as quickly as they came.  Maly has been at this for 12 years, which easily makes it the longest running Iowa sports blog I've ever seen.
While doing all this, Ron Maly managed to find time to write a book on Hawkeye sports.  Tales from the Iowa Sidelines came out in 2003, and I can still remember that it was one of the first Hawkeye books I ever bought.  I now have pretty much every book ever written about Hawkeye sports in my library, and Maly's book is still one of the better reads in my collection.
After nearly four decades as a sportswriter and a dozen years as a blogger, Ron Maly is still covering sports, just as he has done since he was 15 years old.  His blog has been linked at the right, where you can read Maly's takes on life, sports, and the sad demise of the newspaper industry.  Check it out…because few men have ever covered Iowa sports longer, or better, than Ron Maly.
Tagged with: Bobby Knight • Cedar Rapids Gazette • Dennis Ryerson • Des Moines Register • Indianapolis Star • Ron Maly • Scottish Highlanders • Tales from the Iowa Sidelines
Filed under: Iowa Hawkeye Basketball • Iowa Hawkeye Football
Like this post? Subscribe to my RSS feed and get loads more!