When I first thought about starting a series on Hawkeye personalities, the first guy I wanted to profile was a personality simply known as Scothawk.  Scothawk did more to promote the Hawks in his day than almost anyone around.  A full decade later, his work is still fondly remembered by Hawk fans.
Scothawk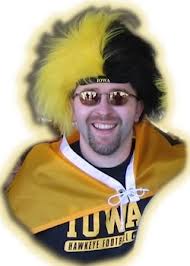 Scothawk, not surprisingly, is of Scottish ancestry.  Born and raised in Scotland, Scothawk was living in Glasgow when he met his future wife, a Cedar Rapids native.  Mrs. Scothawk was an exchange student at the Adam Smith School of Economics at the time, and after a brief courtship, Scothawk left for the United States in 1992.  He arrived in Iowa with just one hundred dollars and a single suitcase full of clothes to start his life in a new country.
That same year, he found himself at Kinnick Stadium, watching the Hawkeyes battle Ohio State in the pouring rain.  Although the Hawks lost, Scothawk was converted that day into a hardcore Iowa football fan.
Scothawk is a Hawkeye graduate, earning a degree from Iowa's College of Dentistry in 1995 and completing a residency in Oral and Maxillofacial Surgery in 1999.  He then became a very successful oral surgeon, opening his own business.  But it was his hobby that made him one of the most well-known Hawkeye fans around.
Scothawk Videos
Scothawk, a loyal user of Mac computers, had a casual interest in digital video editing for years.  He started putting together Hawkeye highlight videos for friends and family and finally decided to take his work public in 2002.  His first video was a short segment of a Tim Dwight hit against Arizona in 1996.
Hawkeye fans went wild, and Scothawk said he was amazed by the response.  You need to remember, video editing was even more complicated and expensive than it is today.  The ability to share video clips online with fans was almost unheard of.  Hawkeye fans everywhere became huge supporters of Scothawk's work.
Scothawk then started releasing original highlight videos later that year.  The Hawkeyes had a tremendous 2002 season, running the table in the Big Ten and qualifying for the Orange Bowl.  Scothawk put together a seven-video series honoring the 2002 Hawks.  His seven videos included:
1) Intro (This Is Hawkeye Football)
2) Stars and Stripes (America's Team)
3) Offensive Highlights (Dallas Clark Tribute)
4) Defensive Highlights (Here Comes the Boom)
5) Special Teams Highlights (Nate Kaeding Tribute)
6) Game by Game Highlights (Lose Yourself)
7) End Credits (2002 Big Ten Champions)
Scothawk would later call the third video, including the Dallas Clark tribute, his favorite video he ever made.  "I had read an article about Dallas and the death of his mother when he was in high school and it literally brought me to tears," Scothawk said.
However, I think it was that sixth video that showed Scothawk's true skills.  He put together a highlight package of the 2002 team's best plays, with "Lose Yourself" by Eminem providing the musical background.  That highlight video sent chills up the spines of every Hawkeye fan that watched it.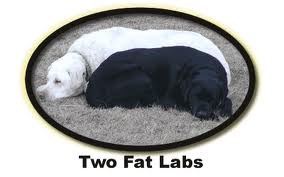 In 2003, Scothawk raised the bar again.  Using the name "Two Fat Labs Studios" (after his two dogs), he put together 19 different highlight videos that season, including one for every Hawkeye victory that year.  It was a remarkable amount of work, since each video took Scothawk anywhere from eight to ten hours on average to put together.
He continued at this prolific pace during the 2004 season as well, and in my opinion, the highlight video he put together for the 2004 Big Ten championship season was one of his best works.  Just the first minute of the video is terrific, referencing those who said Ferentz should have left for the NFL, the injuries Iowa suffered that year (particularly at running back), and the tragic deaths during the season of Norm Parker's son and Kirk Ferentz' father.  It then displays Iowa's motto for that year, "Find A Way", and starts in on the highlight.
Again, bear in mind…Youtube still hadn't been invented yet when Scothawk was doing this.  This was all brand new territory.  Scothawk had to start his own website to host all of these videos, and Hawk fans flooded his site.  Fans of schools across the country admired Scothawk's work and wondered when their school would get a Scothawk of their own.
Scothawk Steps Down
By the time 2005 rolled around, things were rapidly changing.  First, video editing technology was becoming widespread, and more and more people were able to emulate what Scothawk had done.  Second, Youtube went live, and suddenly, everyone could share online videos with ease.
Other factors also came into play.  Scothawk was always very wary of copyright infringement with respect to the songs he used, and critics started to challenge both his music choices and the overall quality of his videos.  But perhaps most importantly, the rumor has always been that someone in Scothawk's immediate family passed away, forcing him to reevaluate his priorities.
Scothawk compiled videos occasionally after 2005…in fact, I think his video of Iowa's 2005 victory over Wisconsin was one of his best.  It showed lowlights from several tough Hawkeye losses that season mixed in with highlights from Iowa's gritty victory over the Badgers on "Barry Alvarez Day" in Madison.  But after 2005, his video releases were simpler, shorter, and less regular.  The last Scothawk video I could find came out in 2009, by which time he had more or less given up his hobby.  He's still a hardcore Hawkeye fan, but his video editing days appear to be behind him.
Scothawk's Legacy
Of course, that doesn't stop Hawkeye fans from clamoring for his return.  Other fans have tried to duplicate Scothawk's success, but Scothawk was a man ahead of his time.  He wasn't looking for the notoriety he gained among Hawk fans; he was just trying to spread his enthusiasm for Hawkeye sports.
His mission statement on his website read, "Scothawk's mission is to share in the pride and tradition that comes with being a Hawkeye, representing the University of Iowa in a manner befitting a member of the Hawkeye family.  The goals that Scothawk has with Hawkeye football video and audio productions is to bring to Iowa fans, and fans of college football in general, the excitement and action that occurs during a Hawkeye football game.  It's also a way of honoring those players and coaches who give their all to be the best team they can possibly be every gameday and throughout the entire year."
Scothawk's site has gone down, and his most of his videos have disappeared from the internet.  Much of what remains of Scothawk's work can be found on Youtube here.  It's a poor representation, in my opinion, of just how influential he was in his time.  Nevertheless, Scothawk will always be remembered as a tremendous Hawkeye personality.
Tagged with: Barry Alvarez • Dallas Clark • Hawkeye Personalities • Kirk Ferentz • Nate Kaeding • Norm Parker • Scothawk • Tim Dwight
Filed under: Hawkeye Personalities
Like this post? Subscribe to my RSS feed and get loads more!