I love the Iowa Hawkeyes, which means I'm a huge supporter of Iowa's most successful athletic program – Hawkeye wrestling!  With that said, I'm not as knowledgeable about the history of the sport of wrestling as I should be.  To remedy that, I've spent a lot of time reading the work of the greatest writer to cover the sport of wrestling – Mike Chapman.
Mike Chapman
Chapman was born and raised in Waterloo, Iowa…the hometown of Dan Gable.  He developed a passion for the sport of wrestling at an early age and was an impressive athlete himself.  Although he didn't wrestle in high school, he wrestled for three years in the U.S. Navy and also competed in judo, sombo, and weight lifting contests.  At one point when Chapman weighed 205 pounds, he bench pressed 440 pounds, and he won the State of Iowa Masters Bench Press Contest in the over age 55 category in 2001.
Mike Chapman had a very successful 35-year career in the newspaper business.  He held sports editor positions at the Dixon (IL) Telegraph, the Iowa City Press-Citizen, The Coloradoan, and the Cedar Rapids Gazette.  Chapman succeeded Gus Schrader as the sports editor of the Gazette and worked in that capacity from 1978 through 1984.  Chapman was also the managing editor of Illinois' Daily Sentinel and the executive editor of the Sauk Valley Newspapers in Illinois.  He concluded his long, prestigious newspaper career by serving as the publisher of the Newton Daily News.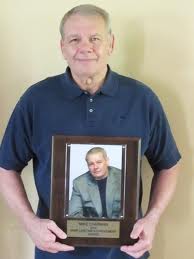 During his time in the newspaper business, Chapman worked tirelessly to promote the sport of wrestling.  As a reporter, he attended 38 NCAA wrestling tournaments, two Olympics, and two World Championships.  He was named National Wrestling Writer of the Year five times, and for two years from 1986 to 1988, he served as Director of Communications for USA Wrestling, the national governing body for amateur wrestling in the United States.
In 1993, Chapman created W.I.N. Magazine, one of the foremost magazines covering all levels of wrestling.  While working for the magazine, he created the Dan Hodge Trophy, which is awarded every year to the top collegiate wrestler in the nation.  The Hodge Trophy has become one of the most coveted honors in the sport.  On top of all that, Chapman helped found the Dan Gable International Wrestling Institute and Museum in 1998, stepping down as its executive director in 2009.
Mike Chapman's Books
Mike Chapman had his first book, Two Guys Named Dan, published in 1976.  The book tells the stories of wrestling icons Dan Hodge and Dan Gable.  Since then, Chapman has gone on to write an astounding 25 books, mostly on sports.  As someone who enjoys writing books about sports, I have a profound appreciation for what Chapman has been able to accomplish as an author over the past 35 years.  Writing books is a difficult proposition, and publishing 25 books in the world of sports is a rare feat.
Sixteen of Chapman's 25 books are about the sport of wrestling in particular.  Three of his books are biographies of athletes-turned-movie stars (Herman Brix, Glenn Morris, and Tom Tyler), and he has written two books about football.  One of his books, The Toughest Men in Sports, is about eleven of the greatest athletes from one-on-one sports like wrestling, boxing, and martial arts.
Chapman's other three books are interesting for various reasons.  He wrote a historical novel about Achilles, the greatest hero of the Trojan War.  In 2006, he visited ancient Troy in northwestern Turkey to conduct research, and he's now a recognized expert on the topic.  Chapman also wrote another historical novel, Lowell Park.  Lowell Park is a fictional account of a young woman's journey back in time to meet Abe Lincoln in 1832 and Ronald Reagan in 1932.  Chapman has been working to get the book made into a movie, and the film is slated to begin shooting in the near future.  And the third book?  Well…read on.
Mike Chapman's Magazines
As you can tell, Chapman has had a prolific career.  In addition to everything else Chapman has done, he has served as the publisher of several magazines.  As mentioned before, he founded W.I.N. Magazine in 1993, but before that, Chapman founded Voice of the Hawkeyes magazine in 1984.  He served as the magazine's editor until 1988, and today, Voice of the Hawkeyes is the longest-running magazine dedicated to Iowa sports coverage.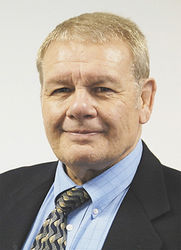 The other Chapman book not previously mentioned was called Iowans of Impact, a collection of biographies on 25 outstanding Iowans.  On top of all of Chapman's other interests, he is a vocal proponent of the history of the state of Iowa.  This appreciation for Iowa history is reflected in his current magazine, Iowa History Journal.  Now in its third year, Iowa History Journal has numerous articles, feature stories, and trivia about the history of the Hawkeye State.
Magazine publisher, wrestling historian, accomplished author…Mike Chapman is the definition of the 21st century Renaissance man.  If you have any interest in learning about the sport of wrestling or the history of our state, be sure to visit either of Mike Chapman's websites linked at the right or subscribe to Iowa History Journal.  You'll be glad you did.
Tagged with: Cedar Rapids Gazette • Dan Gable • Gus Schrader • Hawkeye wrestling • Iowa City Press-Citizen • Iowa History Journal • Mike Chapman • Newton Daily News • Voice of the Hawkeyes
Filed under: General
Like this post? Subscribe to my RSS feed and get loads more!