As the University of Iowa wraps up a trying football season, it seems to me that the school could use an uplifting cheer.  Alabama has "Roll Tide", while Illinois and Ohio State fans dazzle with their spelling skills.  And who wouldn't be jealous of hearing Nittany Lions fans chant "We Are…Penn State?"  I think all fans love things that make their school unique.
Believe it or not, for the better part of the twentieth century, the Hawkeyes had a slogan – "Iowa Fights".  Now, I'm not suggesting that it should make a comeback or anything, but it is a part of our history…and it's important to remember why.
Iowa Fights
The first appearance of the phrase "Iowa Fights" takes place around 1912, and it all starts with a card stunt.  Oh, maybe it doesn't seem as impressive today as the card stunt Hawkeye fans pulled off before the 2011 Northwestern game, but almost 100 years earlier, those kooky Hawkeye dental students were just as organized.
On October 12, 1912, the Hawkeye football team took the field against Cornell College.  Iowa expected a challenge from Cornell, but the Hawks, led by tackle Jim Trickey and back Charlie Parsons, rolled to a 31-0 victory.  That game would go down as just any old ordinary football triumph of a century past if it had not been for the card stunt executed by Iowa's dental students.
"Iowa Fights!!  Over twenty-five hundred yellow and black pieces of cardboard and over a thousand big placards of the same color bore this inscription at Iowa Field yesterday…

The entire membership of the College of Dentistry, responsible for the stunt, attended the game and occupied one section of the bleachers to break the record for unique displays of enthusiasm.

Everywhere appeared the slogan 'Iowa Fights'.  The dents had nailed the big placards to the fence posts, and they had passed the little pieces of cardboard to everyone attending the game.  Then up along the east fence they had painted the slogan in white three or four times clear across the length of the bleachers occupied by the Cornell rooters."

– Daily Iowan, Oct. 13, 1912
For the next several decades, the slogan "Iowa Fights" followed the Hawkeyes everywhere.  Coach Howard Jones assembled two championship teams at Iowa in the 1920s, and it is said that a fighting spirit is one of the first qualities Jones demanded of the players on his roster.
"No candidate for the Old Gold varsity is desired who will not fight to win until the final whistle blows.  Let every man remember that first of all, 'Iowa Fights.'"

– Howard Jones
The slogan was mocked by some of Iowa's opponents, of course.  Henry Vollenweider, the final surviving Hawkeye teammate of Nile Kinnick, reminisced about his time at Iowa when I was writing What It Means to Be a Hawkeye.  Iowa's football team really struggled during the 1930s, while Minnesota's program became a powerhouse in the hands of Coach Bernie Bierman.  Vollenweider recalled that the old saying going around at that time was, "Minnesota 50, Iowa Fights."  But it illustrated that even when Iowa was outmanned, the Hawkeyes would go down fighting.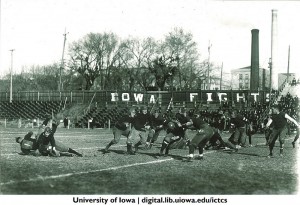 In 1948, Iowa pulled off another card stunt, just as they had in 1912.  The fans in the stands held up colored cards to spell out SUI, '48 football…and "Iowa Fights."  The slogan was still popular in 1951, when Meredith Willson penned Iowa's now popular fight song.  Did you ever wonder why the word is fight, fight, fight for Iowa?  Because for decades, it was well-known that Iowa Fights.
Iowa Still Fights
The University of Iowa played its first intercollegiate football game in 1889.  Seventy-five years later, Bert McGrane and Dick Lamb wrote the definitive history of Iowa football.  Their 1964 masterpiece was titled 75 Years with the Fighting Hawkeyes.  The 75 years part is obvious, but there's a reason they were known back then as the "fighting" Hawkeyes.
The slogan slowly phased out in the 1970s.  Maybe it was the endless onslaught of losing that killed it, or maybe it was deemed too violent a phrase in an increasingly politically correct world.  Or maybe, like so many things, it just faded into history as we moved on to something new.
But make no mistake…that fighting spirit still rages deep in the hearts of all Hawkeye supporters.  This has been a rough season of Iowa football, but no matter what happens, I'll never, ever be ashamed to be a Hawkeye.  Because win or lose, I'm going to do what all true Hawkeyes do – keep on believing, hoping…and fighting.
"Iowa Fights.  That slogan means much.  It means that torn ligaments go unnoticed.  It means that broken bones halt the opposing runner.  It means that every Hawkeye player stays on the field as long as he can move.  It means that any Iowa eleven must be respected to the last minute.

But in a broader sense, it means more than this.  It means every student in the university is behind his team.  It means that we support it financially, morally, physically.  It means we fight for it, on the field and off the field.  It means we stand by it in victory or defeat.  It means an opponent must not beat eleven men, but [thousands]…

The time has come.  Now, in this hour of its greatest need, with a victorious school invading our campus, with the Old Gold eleven forced up to the wall, with defeat behind and uncertainty ahead, let's back that team to the last man…

Let's demonstrate that ALL 'Iowa Fights.'"

– Daily Iowan, Oct. 19, 1917
Tagged with: 1912 Cornell football game • 2011 Northwestern football game • 75 Years with the Fighting Hawkeyes • card stunts • Charlie Parsons • Henry Vollenweider • Howard Jones • Iowa Fight Song • Iowa Fights • Jim Trickey • Meredith Willson • What It Means to Be a Hawkeye
Filed under: Iowa Hawkeye Football
Like this post? Subscribe to my RSS feed and get loads more!