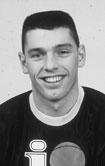 I'm not going to lie…this was a tough one to write.  I was overcome with emotion on a few occasions putting this together, but it's a watershed – if extremely painful – moment in the collective Hawkeye experience.  Twenty years ago Saturday, on January 19, 1993, the state of Iowa lost one of its greatest sons in a shocking tragedy that is still heart-wrenching to this day.  But before we revisit his death, let's celebrate the life of a Hawkeye who will never, ever be forgotten: Chris Street.
A Star of Indianola High
Christopher Michael Street was born on February 2, 1972, to Mike and Patty Street.  He grew up on a farm near Humeston, Iowa, but prior to his sophomore year of high school, the Streets moved to Indianola, just south of Des Moines.  Chris Street was an all-around athlete for Indianola High School.  He was an all-conference baseball player and was a first team all-state quarterback.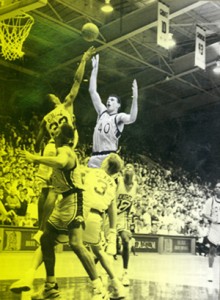 But Street felt most at home on the basketball court.  As a 6'8″ sophomore, he led Indianola to the Class 3A state tournament, where the team finished third in the state.  Street finished fourth in tournament scoring with 52 points and second in rebounding with 34.  The following year, he helped Indianola High School make it back to the state tournament while being named first team all-state.
When it came time to choose a college, there was very little drama.  As a youngster growing up in Humeston, he'd join his parents with five or six other families to watch Iowa games on television.  Street committed to Iowa after his sophomore year of high school, fifteen months before he would officially sign a letter of intent.  At the time, it was the earliest commitment ever for an athlete to the Iowa basketball program.  "I've been a Hawkeye fan ever since I was old enough to know what basketball was," Street said.
I wrote a chapter on Chris Street for my first book, Hawkeye Greats, By the Numbers.  I used one of my favorite stories from Street's high school career in the book.
As a senior, Street missed eleven games with a stress fracture in his foot.  Two days after his cast was removed, Indianola had a road game at #1 ranked Ankeny.  A win would give Indianola the conference championship.  "He was out there limping, and he already had his scholarship to Iowa and he had nothing to prove, other than beating Ankeny and being the conference champion," his high school coach Bert Hanson said.  "He was diving on the floor for loose balls.  It was probably the most courageous, gutty performance out of an athlete, knowing the kind of shape the kid was in.  That just showed the intensity, desire, and courage that kid had."  Indianola won the game and a share of the conference title.
To conclude his high school basketball career, Chris Street led Indianola to another third place finish in the state tournament while being named first team all-state for the second time.  Street ended his career with 961 points scored and 598 rebounds.  
Indianola High fell in love with their three-sport star.  It wasn't just about his stats or the big games…Street always took time to talk and have fun with anyone who crossed his path.  "He was always smiling," girlfriend and fellow Indianola High grad Kim Vinton said.  "And he was a fun person to be around.  He had a great sense of humor.  He had a great way of making you feel good about yourself.  Just a very kind and fun person to be around."  In the same way that Street became a hero in Indianola, he was bound to win over hearts in Iowa City.
Rising Star of Hawkeye Hoops
Chris Street was a solid part-time starter as a freshman at Iowa.  He averaged five points and five rebounds per game and learned the ropes in the Big Ten.  Street really began to blossom as a sophomore, starting every game and bumping up his scoring average to 10.6 points per game.  However, Street's biggest contributions to the team were on defense.  As a freshman, he blocked 52 shots, still the most ever by a Hawkeye rookie.  In his second season, Street averaged 8.2 rebounds a game, good for third in the conference, and was an honorable mention All-Big Ten selection.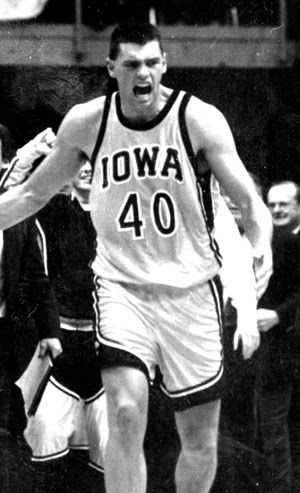 Street was starting to stand out in a league loaded with talented players.  It wasn't just the points and rebounds – it was the infectious energy.  He gave 100 percent every play and was the ideal man to run point on Coach Tom Davis' pressing defense.  A staple of Davis' full-court press included having a Hawkeye guard the inbounds pass, jumping up and down and waving his arms to distract the passer and possibly deflect the ball.  Chris Street played this role to perfection.  It perfectly exemplified his value to the team and defined the way he wanted to play basketball; he was Mr. Hustle.
Street wore his emotions on his sleeve on the court, pumping his fists after big plays.  He was also a happy, upbeat personality with a wide smile whose laugh kept the team loose in the locker room and on the bench.  "There are a lot of guys my size who are better athletes," Street once said. "I'm quick for my size, but I don't jump great. If I don't use my emotions, I'm pretty average."
That was an overly harsh assessment, as Street was anything but average.  "People underestimated him," teammate Kenyon Murray said. "Everybody saw how hard he played and how much intensity he had.  But people underestimated how good of an athlete he was and how skilled of a player he was."
With two years under his belt, Chris Street was now viewed as a rising star in the Big Ten.  He was one of twelve Big Ten players selected to play on a conference all-star team that toured Europe and participated in exhibitions against seven European clubs.  The Big Ten All-Stars went 6-1, suffering their only loss by a single point.  Street averaged 13.5 points per contest and easily paced the team in rebounding by snaring 10.2 boards per game.
Street returned to Iowa as one of the centerpieces of the best Hawkeye team of his career.  In his junior season, the Hawks raced out to a 12-3 start, rising to #12 in the national rankings.  Street was averaging 14.5 points and 9.5 rebounds per game in his junior season.  His last game was a huge showdown at #3 Duke.  The game was nationally televised, in an era where that was a big deal.  And the Hawkeyes were looking for revenge, as the Blue Devils had eliminated Iowa from the second round of the NCAA Tournament in each of the past two seasons.
In his last game, a 65-56 road loss to Duke, Street collected 14 points and eight rebounds.  He also made his 33rd and 34th consecutive free throws, setting a school record that still stands today.  Coach Krzyzewski complimented Street's fine play.  "He was one of my favorite players," Coach K said.  "He pointed their press.  He was just all over the place.  He played with the type of attitude that you would want to inject in every player that has ever played for you.  He was a warrior and just a terrific player and really a terrific kid.  I remember shaking his hand after the game just because coming into the game, I admired him so much watching him on tape.  Just to tell him, 'It was honor to play against you.'  He was a very special, very special basketball player."
A Sudden, Tragic Death
Then came one of the most tragic nights in the history of Hawkeye sports.  On January 19, 1993, the team gathered for dinner at the Highlander Inn.  The Hawks were set to play Northwestern the following night, and it was a tradition to have a team meal the night before every home game.  The roads were clear with no ice or snow on the ground, but some snow was expected later that night, so crews were out preparing for an upcoming winter storm.
Chris Street had a night class back on campus, so he and his girlfriend Kim Vinton left the Highlander Inn and hopped in his car for a short trip back into town.  He planned to drop Vinton off at her apartment and then head to class.  At 6:49 PM, Street attempted a left turn onto a four-lane highway when their car was struck by a Johnson County snowplow.  Vinton suffered a punctured lung and a separated shoulder.  Chris Street was killed instantly.  He was two weeks shy of his 21st birthday.
Right after the crash, James Winters, Street's roommate, left the Highlander Inn with some of his teammates and drove past the crash site.
[Winters] didn't think much of it at first.  "[The car] was pretty mangled — unrecognizable," Winters said.

Winters said he saw a police officer kneeling down to check on the driver of the vehicle, and he could tell whoever was in the car wasn't in good condition.  With police on the scene, he figured there wasn't anything they could do, so they kept on going.

But the scene kept eating at him as they got on I-80.

"As we were getting on the entrance to I-80, I thought to myself and said aloud to the guys, 'Hey, I don't want to say this, but the color of that vehicle — that might have been Chris' car, because that's the same color as Chris' car,' " Winters said.

Street's class was just across the street from their apartment, and when his car wasn't parked outside, Winters started to worry.  He went back to the site of the accident and found a slew of police cars and ambulances.

Police stopped Winters before he could get close enough to see the driver, even after telling the officer he thought the crash might involve his roommate.  An officer said Winters should contact the basketball staff.

"At that point, you can put two and two together," Winters said.
Randy Larson was a Street family friend and a long-time Hawkeye basketball supporter who co-owned the Airliner bar in Iowa City.  January 19 was the first day of the spring semester, so his bar was packed with around 600 Iowa students.  Larson received the news but couldn't tell anyone until Street's parents were notified.  He stood in the back of his bar, vainly trying to fight off tears, as he waited for a call from the police that the news had been released to the media.
The cops soon gave Larson the go-ahead.  "We had all the TVs turned on, to three different stations," Larson said.  But none of the students were paying attention to the television as news broke of Street's death.  "So I turned off the music, stood up on a chair, and just said a couple of sentences – that a great friend of ours, Chris Street, had been killed tonight.  And I couldn't even get it all out."
Larson didn't know how the Hawkeye students would react, and their response was one that he'd remember for the rest of his life.  "Six hundred people put down their glasses, picked up their coats, and went home.  Just like that.  We closed," Larson recalled. "You would expect a bunch of the kids who had been drinking to kind of grumble about it or go off to other bars.  But it was empty in a minute.  They set their beers down and filed out in stone silence.  I stood by the door and half of them were crying.  It struck me as they were leaving, no one was saying a word."
Hawkeye center Acie Earl noticed Street's absence at their class.  Afterward, he headed to Carver-Hawkeye Arena for a workout.  When Earl arrived at the arena, he was surprised to see all of the cars of the coaches, players, and managers in the parking lot.  "As I walked in the door, Kevin Ralston, the senior manager, was crying right at the back door — just bawling," Earl said. "I'm like, 'What's the matter?' and he started to say, 'Ch—' and I thought Coach Davis had died, had a heart attack.  He said, 'Chris is dead.'  And I said, 'What?  Chris?  Who's Chris?'"
No one could believe it was Chris Street, and that he was gone.  The entire team was stunned…a friend they had eaten dinner with mere hours earlier was dead.
A State of Shock
There are certain major societal events, like Pearl Harbor or 9/11, where everyone remembers exactly where they were and what they were doing when they heard the terrible news.  Sudden and tragic deaths, especially those of political figures (like JFK or Princess Di) or celebrities, often have the same effect.
It's hard to describe to a non-Iowa fan or someone who wasn't there, but those are the closest parallels I can draw to describe how the news of Chris Street's death hit the entire state.  The whole state of Iowa fell into a state of shock, as reports of Street's death rolled out of Iowa City.  Hawkeye television play-by-play broadcaster Larry Morgan recalled, "I was home, and my wife said, 'There's a bulletin on TV.'  I just couldn't believe it.  It was like when Kennedy was assassinated.  You'll never forget where you were.  It was that kind of impact."  That's a typical refrain from Hawkeye fans who were around back then; every Hawkeye fan has a story of what they were doing when they heard the news of Street's tragic death.
Here's mine: I was 13 years old at the time.  I remember waking up on the morning of January 20, and my mother had a concerned look on her face.  I was a huge, huge Iowa basketball fan, as you can imagine.  My mom pulled me aside and told me that Chris Street had died the night before.  Then she turned on the television and let me watch the newscast where they were memorializing Street.
Like Morgan, I couldn't believe it.  No one could believe it.  These Hawkeye players were my heroes, and honestly, I didn't even think they could die.  Dying was something old people did, or people who engaged in bad behavior, or sometimes people with a lifelong condition or illness.  It hit me that, "Wow, this really happened and Chris Street is really gone.  Anyone at any age can die at any time."  It was so random and out of the blue…it made you sick to your stomach.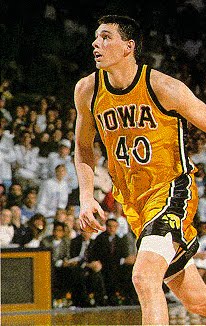 Many would compare Street's death to Nile Kinnick's.  Kinnick was also beloved and taken well before his time.  But as tragic as Kinnick's death was, he was training for a war.  While his death stunned the state, he was only one of hundreds of thousands of heroes who died during the war.  If his passing surprised Iowa, Kinnick certainly knew the risks.  He enlisted in the military and put his life in danger in the service of his country.  A better comparison would be Cal Jones or Bucky O'Connor…a man taken without warning in a tragic accident that is still hard to imagine.
Condolences poured in from across the country, as players, coaches, and ordinary fans remembered Chris Street.  The most quoted recollection of Street came from Indiana coach Bobby Knight.  Knight said, "Chris had a great future and was one of the real outstanding kids and players in the Big Ten.  What could be more tragic than to have something like this happen?  He played hard every minute of the game and because of that he was one of my favorite players in the Big Ten."  Michigan State coach Tom Izzo recalled, "He was everything that's good about sports, everything that's good about college basketball…He worked his tail off.  He was not an elite talent – just a man-made great player."
Two men stood out to me in this story as pillars of strength behind the scenes.  John Streif, Iowa's longtime trainer, accompanied Street's body back to Indianola and provided comfort to Street's family and teammates in their hour of need.  In 1997, Streif's exceptional compassion during this time was recognized when he became the only non-athlete awarded the Chris Street Award by the basketball program.
The other man who rose to the occasion was Coach Tom Davis.  Davis was as devastated as anyone over the news of Street's death.  "I don't know that you're technically in shock, but that's how you feel," he said.  "You're just so shocked, you're in a fog."  Yet despite losing a player he loved like a son, Davis somehow managed to keep the entire team from falling apart by being strong in the locker room.
Davis provided a public face for the basketball program in the midst of an unspeakable tragedy. "Chris represented all that is good about the Midwest and the state of Iowa," Davis said.  "I cannot begin to describe the deep feelings of Chris Street's teammates and coaches.  We all loved him and we will miss him very much.  We hope his family will remain part of our family.  He was open, caring, honest, loving and lived life to the fullest.  We want to remember everything Chris represented.  He was one of the greatest Hawkeyes of all time."
No one could have anticipated how the news shook the state.  Men, women, and children everywhere fought back tears.  The Iowa House of Representatives held a moment of silence in his memory, and flags across the state flew at half-staff.  And in this grief-stricken state, the Street family now had to lay their son to rest.
Chris Street's Funeral
First, there was a visitation, which brought hundreds of Street's acquaintances for one last look at their friend.  Although Mike and Patty Street were too grief-stricken to attend, the entire Iowa team was at the visitation to see their teammate for the final time.  Street was dressed in his gold Iowa uniform and a black and gold warm-up jacket.  He held a rose in one hand, and a Cabbage Patch doll dressed like an Iowa cheerleader was by his side in the casket.
Chris Street's funeral drew 2,500 mourners in person and millions more across the country in spirit.  Street had two younger sisters, Sarah and Betsy, and 17-year-old Sarah Street reduced the crowd to a sobbing mess by taking the podium and reading a goodbye note to her older brother.
Dear Christopher, #40 –

I'm writing you my last goodbye for now.  I'll see you some day when I meet you in heaven.  Why did it have to happen to you?  You had so much going for you.  You were all I could ask for in a brother and more.  You were always there for me when I needed you, always supporting me in everything.  And you were the nicest guy.

I have so many awesome memories with you and our family together.  Remember all the times we played basketball, football, Whiffle ball, etc.?  You were my idol.  You had it all – athletic talent, desire, heart, good looks, good friends, everything.  I just can't believe that you'll never put your long, strong arms around me and give that huge smile of yours ever again.

I realize you're in a lot better place than here on Earth.  But I'll miss you so much.  You were adored by our family.  We'll never forget you as long as we live.  When I look around, all I can think of is you and you not being able to come home.

Well, goodbye.  I love you so much.  God will take care of you, I know.  We'll try to be strong and look forward to the day when we meet you again.

Love, Sarah – #40.
Chris Street was buried in his beloved town of Indianola.  His tombstone bears the epitaph, "Son * Brother * Grandson * Friend * Cousin * Nephew * Hero".  Without a doubt, Chris Street embodied every positive trait you could want out of any of those things.
The Michigan State Game
Chris Street's death was immediately followed by what are easily two of the most memorable games in Hawkeye basketball history.  What made his death almost unprecedented in Iowa sports history was the fact that it happened right in the middle of his team's season.  Iowa's January 20 game against Northwestern was postponed, as was Iowa's next game against Penn State.  After a week to grieve, Street's teammates eventually had to get back onto the court.
The Hawkeyes took to the court for the first time without Street on January 27 in East Lansing, Michigan, against Michigan State.  Iowa had only practiced a couple times in the twelve days between Street's death and the Michigan State game, although some players had worked out on their own to take their minds off of their grief.  "We weren't overcoached, that's for sure," Tom Davis said. "We were ragged and rusty, all the normal things you have when you're coming off a layoff.  They worked really hard to try and get ready."
Wade Lookingbill took Chris Street's place in the starting lineup.  One of Davis' biggest problems was figuring out what to say to the players before they left the locker room.  Davis wisely took the understated approach and let each player deal with the drama of the moment on their own terms.  "We just said, "OK, let's go.'  We put our hands in.  I don't think there were any big speeches or anything," Davis recalled.  "I remember how serious everything was, how deep the emotions were."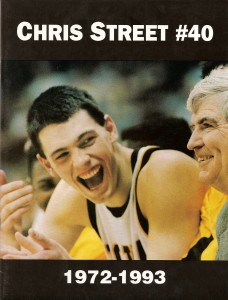 The players obviously had Street on their minds.  The Hawkeyes came out of the locker room wearing a #40 patch on their jerseys, and Acie Earl even had #40 shaved into his hair.  Under the circumstances, it should come as no surprise that the Hawkeyes were lethargic and preoccupied much of the game.  The Hawks fell behind by 17 points, and Michigan State held a commanding 70-55 lead with 3:15 left in the game.
But just as Chris Street played with intensity every second of every game, his Hawkeye teammates refused to fold.  A Val Barnes three, a Kevin Smith steal and layup, and a ten second call followed by an Acie Earl dunk quickly cut that deficit to eight points.  Several possessions later, Iowa still trailed by that amount with 1:07 left to play when another Barnes three-pointer forced a Spartan timeout as their lead was reduced to five.
The Hawkeyes had made a furious rally to get back in the game, but Iowa was now in must-foul mode to slow the clock.  Michigan State made one free throw to push their advantage back to six points.  Acie Earl responded by drilling a jumper while drawing a foul, and he sank the free throw to leave Iowa trailing by just three points with 48 seconds to play.  Two made Spartan free throws were negated by another Earl jumper, and the Hawks fouled the Spartans again.
This time, Michigan State left the door open for Iowa by missing two free throws.  The Hawks raced down the floor, and Val Barnes launched a three-pointer that dropped through and tied the game with 22 seconds left.  Acie Earl blocked Michigan State's game-winning attempt, and the Hawkeyes had improbably forced overtime.
Iowa didn't let up, scoring nine of the first eleven points in overtime to complete a 30-8 run.  From there, the Hawkeyes held on to clinch an incredible 96-90 overtime victory.  It was truly a storybook win.  Michigan State coach Tom Izzo, who was on the sidelines as an assistant for Jud Heathcote in that game, remembered the comeback well.  "If it's possible to have a rewarding loss, that one might be the ultimate," Izzo said.  "It was crushing to lose that game, and yet you caught yourself sitting there saying, 'That guy got us when he was alive, and he got us after he died.'"
Tom Davis felt the team's effort exemplified what Chris Street was all about.  "That's how he lived, and I think that's how he tried to play," Davis said. "And that's how we played in that particular game."
The Michigan Game
It seemed like nothing could top that kind of dramatic comeback.  But on January 30, the Hawkeyes, now ranked #11 in the nation, returned to Iowa City for their first home game since Street's death.  The opponent was #5 Michigan, who featured the Fab Five.  The Fab Five were the best team Ed Martin's money could buy.  Chris Webber was the team's leader and a little more than two months away from the most infamous timeout call in NCAA Tournament history.  But Webber was flanked by talented players like Jalen Rose and Juwan Howard and fellow sophomores Jimmy King and Ray Jackson.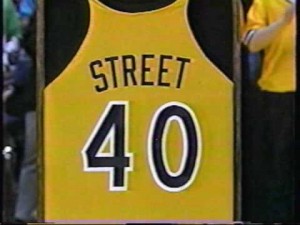 A sellout crowd of 15,500 at Carver-Hawkeye Arena observed a moment of silence before the game, while Street's parents and two sisters sat in the front row.  The game was competitive and hard fought.  The Wolverines, a team that had played in the national title game the previous season, accepted the game as a challenge of their talent and desire.  On the other hand, the Hawks were playing with #40 on their minds.  After every significant play, the Hawkeye players turned and pointed their index fingers toward the Streets.
Iowa and Michigan were tied at halftime, and Michigan led 75-73 with four minutes to play.  But Val Barnes and Acie Earl again made key baskets, and Kenyon Murray made a couple of spectacular defensive plays.  The Hawkeyes outscored the Wolverines 15-5 in the final four minutes to win, 88-80.  Fans stormed the court, and the players weaved their way through the crowd to hand the game ball to the Street family.  Few games could have topped Iowa's contest with Michigan State three days earlier, but this one might have done it.
The Fallout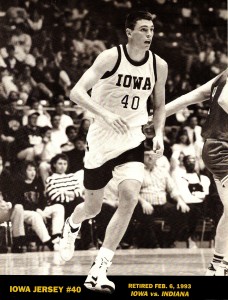 The emotional two weeks took its toll on the Hawkeye team.  Iowa fell into a three-game losing streak, including a 73-66 home loss to Indiana on February 5, during which the basketball program retired Street's #40.  The Hawks rebounded to finish the year ranked #13 in the nation and grab a #4 seed in the NCAA Tournament.  In the second round of the tourney, however, the Hawkeyes fell to #16 Wake Forest, 84-78.  The Demon Deacons were led by Rodney Rogers, and without Street to counter him in the post, Iowa absorbed a narrow loss.
Street's girlfriend, Kim Vinton, soon recovered from her physical injuries, but the emotional pain would take longer to heal.  Street and Vinton had dated since high school and had gone ring shopping just before his death.  There was even a rumor that Street was preparing to propose to Vinton on Valentine's Day; in the blink of an eye, Vinton had to piece her entire life back together and start anew.  She did battle back.  She eventually married Hawkeye wrestling star Joe Williams and now works for the University of Iowa, but it took a long time to move forward.  "It was real hard for me to let go," Kim (Vinton) Williams said.  "I didn't ever want to forget Chris." 
Street's parents, Mike and Patty Street, also had a tough time moving forward.  They hired the legal services of attorneys Randy Larson and former Hawkeye quarterback legend Randy Duncan and decided to sue Johnson County and snowplow driver Charles Pence for $13.8 million dollars over their son's fatal accident.  Larson claimed that the plow might have been traveling slightly over the speed limit and said the plow's headlights were positioned higher than other area plows, possibly making it difficult for Street to discern how far away it was from the intersection.
The trial brought out several witnesses – including Coach Tom Davis, scout Marty Blake, and commentator Billy Packer – to testify that Street would have been a first round NBA draft pick, which established that his death cost the Street family millions of dollars.  In the end, the Streets had to hear an Iowa County jury rule that their son, Chris Street, was 100 percent responsible for the accident that caused his own death.
Charles Pence, the snowplow driver, was granted a symbolic $1 judgement on a counter-claim for his aggravation over being taken to court.  He was involved in the accident that killed one of Iowa's most beloved athletes and then found himself sued by the family and accused of being somewhat responsible for Street's death.  Pence testified that he still endured weekly nightmares about the accident, years after it happened.  After the lawsuit was dismissed, Pence dropped from the public spotlight, but one of his statements from the time still resonates.  "I'll never forget it," Pence said.  "Being in the accident will never go away."
The Legacy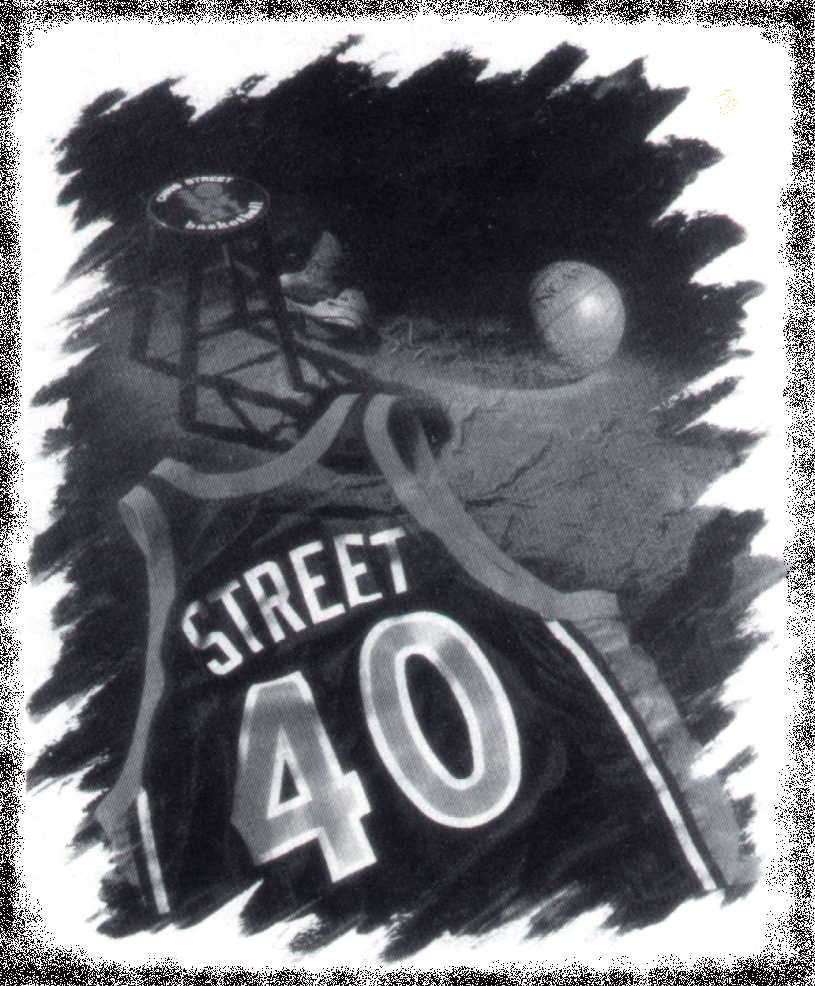 Chris Street will never be forgotten.  His #40 was the ninth and most recent Hawkeye jersey number to be retired.  George Wine, Iowa's great former SID, wrote, "After only two and a half years in an Iowa uniform, Street had become the measuring stick as to how basketball should be played. There were many players with more ability than he possessed, but nobody put more of himself into the game.  Nobody got more from his ability.  Nobody played the game harder."
Immediately after Street's death in 1993, the Hawkeye basketball program honored his relentless work ethic with the creation of the Chris Street Award.  The stated purpose of the award was to recognize "the Hawkeye player or players who best exemplify the spirit, enthusiasm, and intensity of Chris Street."  From 1993-2007, the Chris Street Award was handed out along with the other annual team awards, most notably the team MVP award, which had been in place since 1946.
However, because of the strong fond memories that Chris Street's name invokes, the Chris Street Award came to be the most coveted Hawkeye basketball award.  It became even more desirable than the team's Most Valuable Player award, so as a result, the Hawkeye basketball team MVP award was quietly discarded in 2008 and has not been awarded since.  The Chris Street Award has taken its place as the most coveted award in Hawkeye basketball and become the de facto Hawkeye basketball team MVP award.
It has been two decades since Chris Street's death, which means that from now on, the recipients of the Chris Street Award won't even have a conscious memory of the night when Street was taken from us.  Fortunately, a new book about Chris Street is on the horizon, written by Des Moines Register sportswriter Rick Brown.  Brown is ridiculously talented, having won the Iowa Sportswriter of the Year Award a record ten times (seven more times than his late father, Bob Brown, a terrific sportswriter for the Fort Dodge Messenger).  I expect that in Rick Brown's capable hands, a Chris Street book will really sparkle and serve as a reminder to future Chris Street Award winners just how special that award's namesake was.
More than anything else, Chris Street's premature death reminds us of the fragility of human life.  "It brought home the reality of how short life is, and you should appreciate every day, every relationship, your family, your team," Tom Davis said.  Even twenty years later, Davis has a hard time discussing it.  "There's no doubt it still impacts me," Davis added.  "It's hard for me to talk about.  It's still a sensitive subject…In some ways it seems like a long time ago, and in some ways it feels like it just happened."
Chris Street's legacy will remain with the University of Iowa forever.  That legacy will be defined by the effort and hustle Street gave every minute of his life.  Chris Street's most famous quote – "If you give 100 percent all of the time, somehow things will work out in the end" – exemplifies that spirit.  Today, just outside of the Hawkeye locker room sits a plaque, and on that plaque is a photo of Chris Street and this poem, which illustrates what Street was all about.
Don't Quit

When things go wrong, as they sometimes will,
When the road you're trudging seems all uphill,
When the funds are low and the debts are high,
And you want to smile, but you have to sigh,
When care is pressing you down a bit
Rest if you must, but don't you quit.

Life is strange with its twists and turns
As every one of us sometimes learns,
And many a person turns about
When they might have won had they stuck it out.
Don't give up though the pace seems slow
You may succeed with another blow.

Often strugglers have given up
And they might have captured the victor's cup
And they learned too late when the night came down,
Success is failure turned inside out
So stick to the fight when you're hardest hit,
It's when things seem worst that you mustn't quit.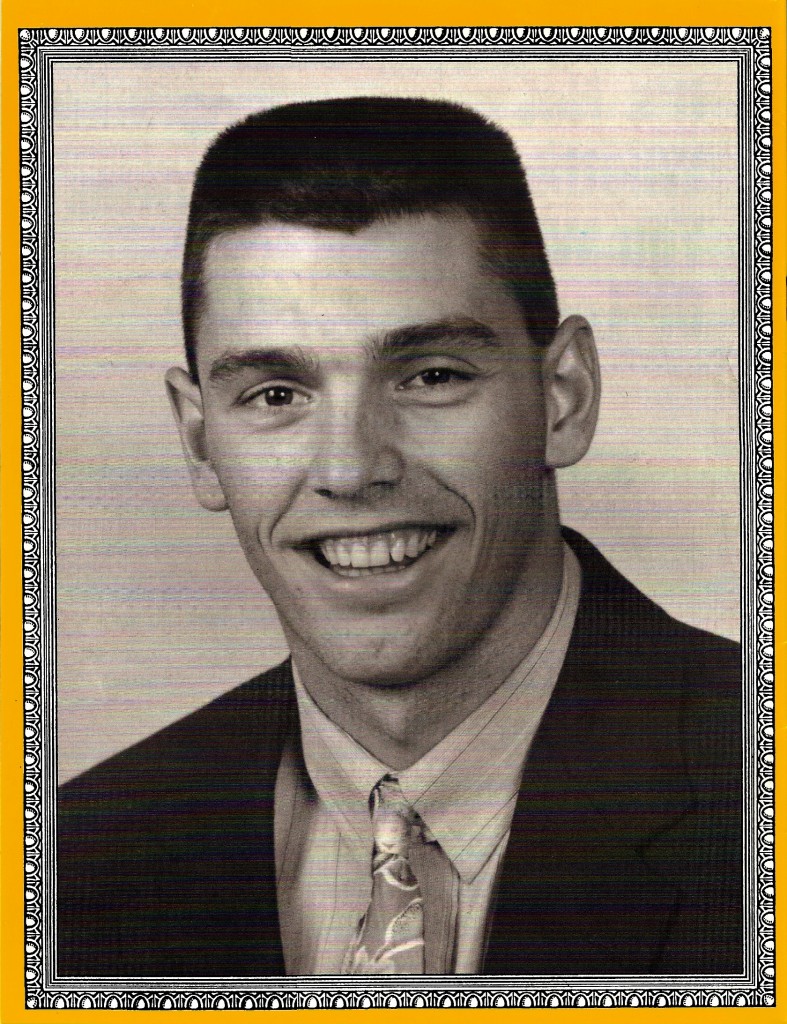 Tagged with: 1993 Michigan basketball game • 1993 Michigan State basketball game • Acie Earl • Billy Packer • Bob Brown • Bobby Knight • Bucky O'Connor • Charles Pence • Chris Street • Chris Street Award • Chris Webber • Dr. Tom Davis • George Wine • Hawkeye Greats By the Numbers • Hawkeyes Revisited • Indianola High School • James Winters • Joe Williams • John Streif • Jud Heathcote • Kenyon Murray • Kevin Smith • Kim (Vinton) Williams • Larry Morgan • Marty Blake • Mike Krzyzewski • Mike Street • Patty Street • Randy Duncan • Randy Larson • Rick Brown • Rodney Rogers • Sarah Street • Tom Izzo • Val Barnes • Wade Lookingbill
Filed under: Hawkeyes Revisited
Like this post? Subscribe to my RSS feed and get loads more!