I've been writing a lot about Duke Slater on this site the last week or two…there's a reason for that.  I'll explain why – and touch on a few other Slater-related topics – in today's special Duke Slater edition of Random Hash.
The New Home of Duke Slater
As you may have noticed, there have been a few changes to this site over the past week.  I'm in the process of closing down DukeSlater.com, my site dedicated to Duke Slater which is the first link under my blogroll on the right.  You can read more about my reasons for doing so over there, but long story short, I've found it difficult over the past year to maintain two running blogs on two different websites.  So I've decided to focus my energies on making NealRozendaal.com the best it can be.
That doesn't mean that I'm giving up on my mission to get Duke Slater the recognition he deserves in the sports world…far from it.  Duke Slater is a true American sports icon who, for some reason, has been lost in the shuffle.  I've taken on the task of getting Slater's name out there as a pioneer in sports history, and the shuttering of DukeSlater.com doesn't change that.
All it means is that DukeSlater.com has been relocated to this site!  You'll notice that Duke Slater now has his own tab on this site where you can access a wealth of Duke Slater material.  DukeSlater.com has become NealRozendaal.com/dukeslater…and I'm very excited about the change!
Other Duke Slater References
If you'd like to learn more about Duke Slater and why I have such a huge amount of respect for him, please check out the Hawkeyes Revisited article I wrote earlier.  And if that article makes you curious to learn even more about Slater, well, I certainly wouldn't mind if you decided to order a copy of Duke Slater!  The price has been reduced to $30 with shipping included, which makes it the best price you'll find for the book on the web!
There are a few other good sources of information about Duke Slater online.  One recent recap of Slater's career was featured on Black Heart Gold Pants, that subversive mecca of Hawkeye sports blogs listed under my favorite links at the right.  A poster over there named Planned Sick Days (who once ran a popular Hawkeye blog of his own before signing up with BHGP) wrote a solid bio of Slater as well as a nice recap of the 1921 season.
On the other hand, you could always rely on the Wikipedia article I started about Slater over five years ago…ah, memories.
When Was Duke Slater Born?
As you might know if you've been following my site from the very beginning, I'm actually a Wikipedia fan.  But that doesn't mean that it gets everything totally right all the time, obviously.  One of the most confusing debates about Duke Slater's life concerns the date on which he was born, and I'm sorry to say that I (with the help of Wikipedia) am responsible for a large part of the confusion.
When I first wrote that Wikipedia article on Duke Slater (way back in 2005!), I wrote that his birthdate was December 9, 1898.  After all, I had confirmed that information with both the College Football Hall of Fame and the National Football League.  Surely both of those sources couldn't be wrong, could they?  I went along with it on Wikipedia, and as you are probably aware, any information you put on Wikipedia is eventually linked to several other "mirror" sites, which means that it winds up all over the internet.  I also listed Slater's birthday as December 9 in my first book, Hawkeye Greats, By the Numbers.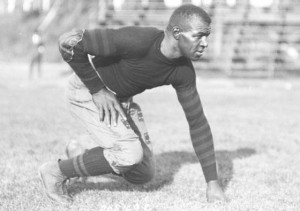 Upon further research, though, I've come to believe that Duke Slater was actually born on December 19, 1898.  There are several reasons why I believe this.  First of all, that's the date of birth listed for him in the book Slater of Iowa.  Duke was alive during the printing of that book, and the book was given as a gift to him.  It's hard to believe that author James Peterson, who put the book together as a salute to Slater and consulted many first-hand sources on its creation, managed to get his birthday wrong.
Maybe I could dismiss that as just an error if there was no other supporting evidence that his birthday was December 19.  However, many of the research papers I looked through suggested that Slater's birthday was on the 19th.  For example, Jet Magazine published an article about "This Date in Negro History" that saluted Slater's birthdate as December 19, 1898.  Furthermore, the year he died, Iowa alumni in Chicago gathered at a memorial tribute to Slater held on, you guessed it, December 19, 1966.  These are just two examples of the supporting evidence I turned up in my research that Slater's birthday was actually December 19.
The best person to settle this controversy, of course, would have been Slater himself, but even Duke seemed baffled by the question at times.  On his World War I registration card, Slater claimed that his birthdate was December 19…1897!  This is the only reference I'm aware of where it is suggested that Slater was born in 1897, as every other source acknowledges his birth year as 1898.  Still, the fact that he lists December 19 as his birthday further hints that the 19th is correct.
After all that, I'm going with December 19, 1898, as Duke Slater's real birthday.  It's crazy to think that something as simple as a person's birthday can be so hard to verify…but that's the joy of historical research!
Duke Slater's Jersey Numbers
Speaking of numbers that can be hard to verify…
I have always had an interest in players' jersey numbers.  In fact, my research into Hawkeye players' jersey numbers is what eventually led to my first book.  I shared my research of historical Hawkeye jersey numbers with Lyle Hammes, who gave me an opportunity to co-author Hawkeye Greats, By the Numbers.
Duke Slater's jersey numbers have been fun to trace.  In 1921, Duke Slater wore jersey number 15 at Iowa, which landed him a spot in chapter 15 of Hawkeye Greats.   When he went to Rock Island, Duke wore #16 in the 1924 and 1925 seasons.  But when he went to the Chicago Cardinals, he started to get tossed around a bit as far as jerseys were concerned.
Slater was a lineman, which means he didn't handle the ball much.  Not surprisingly, he had few opportunities to really make the Chicago Cardinals record books.  Add to that the fact that the Cardinals franchise has been around for a long, long time (first in Chicago and now in Arizona), and there are very few standing franchise records from all the way back in the Chicago era.
To my knowledge, Duke Slater only holds one standing franchise record with the Cardinals organization, and it's an obscure one.  From 1926-1931, Slater wore five different jersey numbers with the Cards.  No other player in the history of the Cardinals (in Chicago or Arizona or anywhere else) has ever worn more.  Duke Slater wore #14 in 1926, 1927, and 1930, split between #16 and #91 in 1928, wore #7 during the terrific season of 1929, and donned #47 in his last NFL season in 1931.
Duke Slater's Hall of Fame Jersey
I visited the Pro Football Hall of Fame last year.  I have been campaigning for Duke Slater to be inducted to the Hall of Fame for a long time, and I wanted to check out the facility first hand.  It's an amazing place, filled with a rich sense of the history of the game.  Of course, I knew going in that Duke Slater's bust wouldn't be in the Hall's main exhibit.
What was terrific to see, however, was the exhibit on Pro Football's African-American Pioneers.  This exhibit honors the 13 African-Americans to play in the NFL before World War II, and Slater, as one of those players, is prominently featured.  In fact, the centerpiece of the exhibit is an old Chicago Cardinals jersey, allegedly worn by Duke Slater himself!
Now, the reason I say allegedly is simple.  Take a look at the jersey, and then take a look back at the previous section I just wrote on Slater's jersey numbers.  Duke Slater wore five different jersey numbers with the Chicago Cardinals (a franchise record), but #10 wasn't one of them – at least that we know of!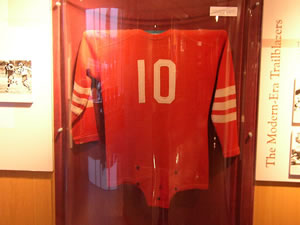 This doesn't mean that the jersey wasn't worn by Slater, though.  Players often wore jersey numbers in practice that they never wore in games.  And given that Slater wore at least five different jersey numbers in just five full years with the Cards' franchise, it's certainly possible that he wore a sixth number, #10, in some game that hasn't been verified yet by research.  But I always found that fascinating – the Hall of Fame displaying a Slater jersey that features a jersey number Slater isn't on record as having ever worn.
Either way, it's great for Duke Slater to have his jersey on display in Canton, Ohio.  He deserves his own bust there, too.  Here's hoping that's on the horizon.
Duke Slater Autograph
Because of the possibility of Slater one day making the Hall of Fame, a Duke Slater autograph is one of the most coveted signatures in sports collecting.  On the one hand, Duke Slater lived for a relatively long time into his sixties.  On the flip side, though, he died almost fifty years ago, and not many collectors may have thought to keep his autograph.
I personally own a signed copy of Slater of Iowa, which I keep secure in a safe deposit box at my bank.  It's one of my most prized possessions, and I was fortunate to have an opportunity to purchase a Duke Slater autograph.
The coolest Duke Slater autograph I've ever seen was shown to me by my good friend Matt.  Duke Slater was a long-time supporter of Hawkeye athletics, well after his retirement.  Slater also took several speaking engagements in Iowa throughout the 1940s and 1950s, working to inspire Iowa's youth.  One of the banquets where Slater was invited to speak took place in West Branch, Iowa, on November 18, 1941.
What makes the event particularly noteworthy is that Iowa's legendary Heisman Trophy winner, Nile Kinnick, was also invited to speak at the same banquet.  Both Slater and Kinnick, two of the greatest stars in Hawkeye history, attended this dinner, and both of them signed one of the table decorations at the banquet.  You can take a look at this fantastic artifact (and several other terrific Hawkeye collectibles) at Matt's website.
I've heard from a few other people who have Duke Slater signed memorabilia, and believe me, all of them own a piece of genuine sports history.
Upcoming Features
All this week, I'm going to be doing a series on this site called "Justice for the Judge".  It outlines a few of the major projects that need to be completed to get Duke Slater the recognition he deserves.  I'm excited to bring this series over from DukeSlater.com and more precisely articulate what fans can do to help get involved.
That's all for now, folks!  Thanks for reading!
Tagged with: Black Heart Gold Pants • Duke Slater • DukeSlater.com • Hawkeye Greats By the Numbers • Hawkeye jersey numbers • Planned Sick Days • Pro Football Hall of Fame • Slater of Iowa • Wikipedia
Filed under: Duke Slater • General
Like this post? Subscribe to my RSS feed and get loads more!