I wrote a book celebrating Iowa's third African-American football player, Duke Slater.  And we started Black History Month on this site by profiling Frank Holbrook, Iowa's first African-American athlete.  So I guess it makes sense to wrap up Black History Month for 2013 by revisiting the story of Iowa's second black football player – Archie Alexander.
Archie Alexander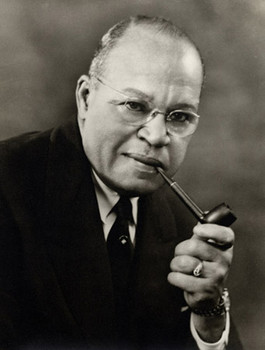 Archie Alphonso Alexander was born on May 14, 1888, in Ottumwa, Iowa.  He was the oldest of nine children born to his parents, Price Alexander and Mary (Hamilton) Alexander, who raised their large family in an area of Ottumwa set aside for poor people.  Even as a youth, Alexander showed a natural affinity for engineering.  One of Archie's childhood play activities involved building dams in a creek behind his home.  Despite his poverty-stricken background, Alexander possessed remarkable intellectual and athletic abilities that would lead to widespread fame.
When Alexander was 11 years old, his family moved to a small farm just outside of Des Moines.  Price became the head custodian at the Des Moines National Bank, which was a prestigious job for a black man at the time.  Archie attended integrated Oak Park High School, graduating in 1905.
Alexander's parents couldn't afford further schooling for Archie, but he still wanted to earn a college degree.  He enrolled at Highland Park College in Des Moines and decided to try out for their football team.  The college's president, however, quickly showed his lack of confidence in Alexander's abilities.  Likely having heard of Archie's janitor father, Highland Park's president bluntly told Archie that he already had all the education he needed and advised him to get a job in his father's line of work.
Dissatisfied with that suggestion, Alexander took a few classes at Cummins Art College in Des Moines before enrolling in the College of Engineering at the University of Iowa in 1908.  He balanced his rigorous coursework with several part-time jobs to pay his way through school.  Alexander also joined the black fraternity on campus, Kappa Alpha Psi.  As if all that weren't enough, he decided to take another shot at that football career, turning out for the varsity Hawkeye football team as a sophomore in 1909.
The 1909 Season
In the years following the Kinney Holbrook incident, the University of Iowa had mended their relationship with the University of Missouri and resumed their annual football series in 1902.  Even though the Hawkeyes were a member of the Western Conference (now known as the Big Ten Conference), in 1907 Iowa took the unusual step of joining a second conference – the Missouri Valley Intercollegiate Athletic Association.
Iowa's presence in the MVIAA made Missouri a regular conference foe.  When Alexander joined the varsity Hawkeye team in 1909, speculation arose almost immediately about what the reaction from Columbia would be.  "Will Missouri Mob Negro?" one Iowa newspaper headline asked.  "Alexander, a colored man from Des Moines, may be made a guard.  If so, he will be the first Negro on an Iowa eleven in…years – Kinney Holbrook, blacksmith, being the previous one.  If this comes to pass, the result of the meeting with Missouri University will be awaited with eagerness here.  When [Holbrook], the Herculean black man and blacksmith, played against the Columbians on their own ground a decade ago, the consequence of southern objections to his color were words and blows.  The game broke up in a terrible row, and the ill feeling between the two institutions was not banished until five years later."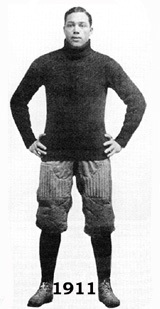 After Iowa's first game in 1909, the Hawkeye coaches were fretting over a possible confrontation with Missouri as well.  "With an ideal build and a good football disposition, Alexander has displayed great possibilities the last week and the coaches hate the idea of relegating him to the sidelines for the Missouri or Kansas games.  However, the Iowa authorities are anxious to avoid any stirring up of feeling between the local institution and the southern schools, and if the request is made that Alexander not be played, it will undoubtedly be willingly granted, though a severe blow to the local eleven."
Just two days before the Missouri game, Archie Alexander's status was still unknown.  "It is whispered in football circles that Alexander, the colored man, will be used in the Missouri game if necessary," a local paper reported.  "He played in part of the Nebraska game after his predecessor was laid out, and he put up good ball.  [Coach John] Griffith is not disposed to flaunt the red (or black) flag in the face of the Missouri bull (or tiger), but he does not propose, it is said, to cripple his team by putting in a weaker man just because the enemy draws the color line.  Griffith is not pugnacious nor inclined to antagonize his team's opponents, but he believes there is a constitutional amendment that protects both his eleven and any man of any race whose standing in the state university warrants his appearance on Iowa Field."
However, Coach Griffith did not use Alexander against Missouri in 1909, despite the fact that the game was played in Iowa City.  "Coach Griffith refused to announce the Iowa lineup in advance of the game," one newspaper reported, but "in deference to the wishes of the Missouri University football team, the Iowa University team omitted the Negro player, Alexander, from its lineup when the teams met here today."  In perhaps a case of karma for Griffith's decision, the Hawkeyes fell to the Tigers, 13-12.
Despite the controversy (and playing most of the season with a cracked rib), Alexander became a star on the field.  After scoring a touchdown in a 16-0 victory over Ames that season, the Des Moines Daily News reported, "'Alexander the Great' is the title by which the colored tackle Alexander will be known hereafter in Iowa athletic circles.  The young Afro-American is one of the best offensive players in Griffith's aggregation.  He was one of the most conspicuous ground gainers of the day…and could always be depended on, as was shown when took the ball over the Ames goal for the final touchdown.  His tackling was brilliant, and he opened up holes seemingly big enough for a wagon to drive through for his ball-carrying backs."
Archie was soon held up as an example of how "democratic" Iowa's athletic teams were in allowing anyone of ability to participate.  "The question whether democracy is maintained in our schools in these matters is answered for Iowa by reference to the case of one of the linemen in the Iowa eleven who was kept out of the game with Missouri because the visitors from the south protested against playing against a Negro," the Iowa City Citizen reported.  "Democracy, it seems, has a better chance in Iowa than Missouri for Alexander has played without prejudice in nearly every game on the Iowa schedule this year."
The 1910 Season
Despite being briefly named academically ineligible for the 1910 season, Alexander got his grades in order in time to take the field for the 1910 Hawkeyes.  In Alexander's junior season, Iowa was scheduled to play the Tigers again, this time on the road.  Missouri officials warned Iowa's new head coach, Jesse Hawley, not to bring Alexander to Columbia.  "Alexander, the colored tackle, will accompany the team but will not be forced into the game against the southerners' wishes," the Cedar Rapids Gazette reported days before the game.  But it was decided at the last minute that Alexander would not even make the trip, and Alexander stayed behind in Iowa City.
This decision likely avoided a repeat of the Kinney Holbrook incident.  Missouri fans, armed with pitchforks and clubs, met the train bearing the Iowa team at the station and were determined not to let Alexander disembark.  "They needn't have worried," Alexander later recalled.  "I wasn't on the train."
Alexander took the benching very personally.  "That was one of the biggest disappointments of my life," he later recalled.  "Our coach, Jess Hawley, didn't even come to me and tell me he was leaving me at home.  I'd started our first two games and thought I was a regular.  I didn't know I wasn't going to Columbia until I saw the traveling squad posted two days before the game.  My name wasn't on it.  I turned in my uniform, but the next day – after Missouri beat us, 5-0 – my teammates urged me to reconsider, and I did.  But I never got over that disappointment."
The Iowa City Daily Press blasted Iowa for "yielding its independence" and for "ostracizing a gridiron star, a gentleman, and a good student, because of his color."  A furious Hawley stated that Iowa would never again schedule Missouri as long as he was coach.  Alexander, meanwhile, came back the following week against Purdue with perhaps his best game of the season, and Coach Jesse Hawley couldn't resist taking a shot at the Tigers.  "Alexander strengthened the right side of the line, a flank which could have stood it at Missouri," Hawley remarked exasperatedly.
Archie also missed the finale of the 1910 season against Washington University of St. Louis.  "Iowa and Washington University have amicably agreed to draw the 'color line'.  Accordingly, Alexander, the Negro tackle on the Hawkeye eleven, will not be used against the Missourians," a local newspaper reported.  "The Washingtonian management did not declare formally that the black athlete must not play, but, in the interests of good feeling, it was decided here that Alexander ought to be kept out of the lineup, and Professor A.G. Smith, chairman of the board in control of athletics, announced today that he would not be used…Alexander is one of the greatest tackles in Iowa, and his absence from the team will hurt Saturday."
Alexander joined the team to watch them defeat Washington U., 38-0, but even his travel caused controversy.  "The Missouri hotel owners will not let Alexander, the colored tackle, room with his teammates in St. Louis," one paper noted.  "He must secure quarters in a private house, or a hotel devoted especially to Negroes, when he reaches the metropolis today."  The issue with Washington University was solved by not scheduling them for another non-conference game until 1942.
However, Iowa still had to deal with their Missouri, a conference foe.  After the season, Hawkeye athletic officials informed the University of Missouri that Iowa would not "maintain the existing contract unless colored players can be used in case they are regular members of the team."  University of Iowa president George MacLean contacted A. Ross Hill, the president of the University of Missouri.  MacLean proposed a compromise, writing that Iowa would "meet Missouri halfway and not play a Negro in Missouri" but would insist on an integrated contest in Iowa City.  "The public sentiment of this state," MacLean wrote, "is about as strong that a Negro must be admitted to play as it is in your state that he cannot play."
Hill replied in a letter that he "tried to make the position of Missouri clear, and you have made clear that of Iowa."  He stated in his response that if Iowa insisted on continuing to play African-Americans, "in that case, there will be nothing for us to do but sever athletic relations, because Missouri will not play against any team that has a 'n—-r' on it."  Upon receiving this response, Iowa agreed with the idea of severing athletic relations, dropping out of the Missouri Valley and remaining solely a member of the Western (Big Ten) Conference.
The prejudice of the Tigers against Alexander had two profound effects.  First, it resolved Iowa's uneasy status as a member of two different conferences.  From 1907-1910, the Hawkeye program was divided between the Big Ten – with border schools Minnesota, Illinois, and Wisconsin – and the Missouri Valley, which had schools like Nebraska, Missouri, and Kansas.  Iowa had been associated with those schools going all the way back to 1893 and the Western Interstate University Football Association, and the university clearly enjoyed being a part of both conferences.
However, it clearly couldn't last, and at some point, Iowa had to make a choice between the two.  Missouri's reaction to Archie Alexander helped Iowa make the choice to cast its lot with the Big Ten instead of the Missouri Valley.  If not for that, perhaps Iowa would have ultimately sided with the MVIAA, which later became the Big Eight (and the Big XII).  But the stark differences held by Iowa and Missouri with respect to African-Americans made sharing a conference with the Tigers an impossibility.
The second and more obvious effect is that it resulted in the end of athletic relations between the border schools.  Iowa and Missouri suspended athletic relations after the Kinney Holbrook incident, but after the Archie Alexander benching, relations between the historical rivals went into a deep freeze that lasted a full century.  After the 1910 season, the series between Iowa and Missouri lapsed for a century, with the teams finally playing again for the first time in the 2010 Insight Bowl.
A Hawkeye Pioneer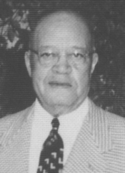 Alexander played one more relatively uneventful season for the Hawkeye football squad in 1911, hampered all year by a bad knee.  Raymond A. Smith later wrote, "When Archie A. Alexander had finished his football career at the State University of Iowa in 1911, he was remembered as a consistently strong player, popular with his teammates and with the Iowa partisans who had watched him throughout his career."
But his greatest accomplishment at Iowa was earning his engineering degree.  A professor at Iowa told Alexander in 1909, "Engineering is a tough field at best and it may be twice as tough for a Negro."  Furthermore, the dean at the university told Alexander that he had never heard of a Negro engineer.
The dean may not have heard of one, but in 1912, the dean saw one with his own eyes.  Alexander became the first African-American graduate of the University of Iowa College of Engineering that year, earning a bachelor's degree in civil engineering, and he promptly left to find an engineering job.  Unfortunately, Alexander quickly discovered that opportunities for black engineers were exceedingly limited.  He applied to every engineering company in the area, and every single one turned him down for an engineering job.
But Alexander didn't give up.  One of his summer jobs when he attended Iowa was working as a draftsman for Marsh Engineering Company, a Des Moines bridge-designing firm.  After graduation in 1912, Marsh offered Alexander a job, not as an engineer, but as a laborer in their steel shop for 25 cents an hour.  Alexander took the job and rapidly climbed the ranks of the company.  Within two short years, he was making $70 a week supervising the company's bridge construction program in Iowa and Minnesota.
A Groundbreaking Engineer
Archie Alexander got married in 1913 to Audra Linzy; the couple had one child, Archie Alexander Jr., who died as a youth.  You might expect that a newly-married man would be content with a quality, reliable job, but Alexander struck out on his own in 1914, forming his own engineering company, A.A. Alexander, Inc.  It was a serious gamble…few companies would offer a major engineering contract to an African-American if there was a white-owned firm that could do the job.  As a result, Alexander's new company wound up with jobs for which no other firms competed, especially jobs from minority clients.
While with Marsh Engineering Company, Alexander had befriended a white engineer named George F. Higbee.  In order to increase his chances of landing engineering contracts from white-owned businesses, Alexander took on Higbee as a partner in 1917.  Alexander and Higbee, Inc., specialized in bridge construction, road construction, and sewer systems.
Archie Alexander studied bridge design at the University of London in 1921 before returning to the University of Iowa and earning a master's degree in civil engineering in 1925.  Alexander and Higbee built a successful partnership until 1925, when Higbee tragically died after being hit by a steel bridge beam while supervising construction.
Maurice Repass
Now without a partner, Alexander faced more occupational uncertainty.  This time, his alma mater would give him a boost.  He secured his most lucrative engineering project yet – the 1926 construction of a $1.2 million central heating and generating station for the University of Iowa.  Over 85 years later, the heating station he designed is still in use.  In 1928, the university awarded Alexander two more projects, a power plant and a tunnel system under the Iowa River to pipe steam, water, and electricity from the power plant to the campus buildings on the west side of the river.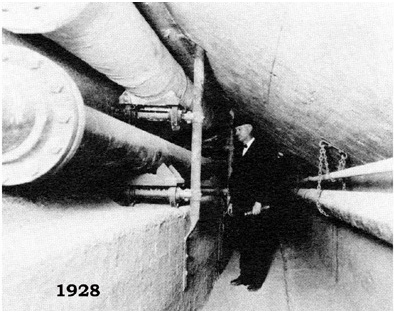 Alexander's reputation as a talented engineer continued to grow.  In 1929, Alexander took on a new partner: Maurice A. Repass.  Repass had been Alexander's teammate on the 1910 Hawkeye football team.  As a halfback, Repass followed Alexander's blocking to help the Hawkeyes win football games; two decades later, the two men were teaming up again.
Alexander and Repass were very successful, keeping their heads above water even as the Great Depression worsened.  Glen C. Herrick, a prominent white contractor and road builder in Des Moines, helped the firm survive the Depression.  Herrick had signed a contract to develop a canal system in Nebraska, so he hired Alexander and Repass for the accompanying bridge work.  Herrick was so impressed by Alexander and Repass' work that he provided financing for a number of their other projects, including some bridge building projects in Des Moines.
Their engineering firm took off during World War II, as the number of federal engineering contracts soared.  Alexander and Repass won the contract to build the Tuskegee Army Air Force base field, where the legendary airmen trained.  The two men had so opportunities for government construction projects that they opened a second office in Washington, DC.
They landed a $11 million contract to build the Tidal Basin Bridge and Seawall in 1943.  Alexander oversaw the construction and hired 160 mechanics and laborers, blacks and whites alike.  His successful work in finishing the job on time and on budget led to several other construction projects around DC.  The projects included the K Street elevated highway, an extension of the Baltimore-Washington Parkway, and the Whitehurst Freeway.  The Whitehurst Freeway, which runs through DC's upscale Georgetown neighborhood, may have been his largest project, at a cost of $3.3 million and involving two hundred workers.  It was a project that took two full years to complete.
Alexander was able to overcome the rampant discrimination of the times by following a simple mantra: Money talks.  Alexander, with his football player frame, was a capable taskmaster and known for his directness and honesty.  His role in the partnership was to pursue the contracts, and he had an aggressive style.  "Some of them act as though they want to bar me," Alexander once said, "but I walk in, throw my cards down, and I'm in.  My money talks just as loudly as theirs."  Many of the people employed by Alexander's business were white, including his longtime secretary.  Meanwhile, Repass served as the inside man, checking contracts and handling mechanical details.
Of course, that didn't mean that he didn't feel the effects of racial prejudice.  Alexander faced the prospect of having separate restrooms and drinking facilities labeled "white" and "colored".  Still, he cleverly circumvented both issues by showing quite a bit of creativity.  He abandoned the drinking fountains and instead implemented drinking cups, which put members of all races on an even playing field.  As far as the restrooms were concerned, Alexander labeled them "skilled" and "unskilled".  This satisfied the status quo by more or less providing separate amenities for blacks and whites, but it allowed Alexander to maintain his objections to segregation.
He might have felt even more prejudice back in Iowa.  Alexander purchased a large home in 1944 in a fashionable white Des Moines neighborhood.  The morning after he moved in, he and his wife Audra woke up to a cross burning on their front lawn.  Despite that, nothing could slow Alexander's business success.  In 1949, Ebony Magazine called Alexander and Repass "the nation's most successful interracial business."
Governor Alexander
Archie Alexander received numerous honors and accolades.  He was a trustee at both Tuskegee Institute and Howard University, which awarded him an honorary doctorate in engineering in 1947.
Alexander also became active in Republican politics.  He was the assistant chairman of the Iowa Republican State Committee in 1932 and 1940.  In 1934, Alexander was appointed as part of a 12-member commission to investigate the social and economic conditions in Haiti.  Two decades later, President Dwight D. Eisenhower tapped Alexander to serve as the first Republican governor of the United States Virgin Islands.
Unfortunately, Alexander's tenure as the governor of the Virgin Islands lasted a short and unhappy 16 months.  He came under substantial criticism by the natives of the Virgin Islands, who opposed the idea of an appointed American governor.  Alexander's blunt, outspoken, and aggressive style also clashed with the laid-back Virgin Islanders.  The stress of the job took a toll on Alexander, who resigned the post on August 18, 1955, for health reasons.  He moved back to Iowa, and two and a half years later, Governor Alexander died of a heart attack.
Although his short-lived tenure as the governor of the Virgin Islands was one of his few failures, Alexander lived an incredibly rich and successful life.  He isn't as well known today as his accomplishments suggest he should be; the fact that Alexander was described as "overly modest" and someone who "shunned publicity and notoriety whenever possible" has been offered as one possible reason.  Throw in the fact that Alexander was hired primarily by white contractors who had no reason to celebrate his achievements, and the result is a highly accomplished man who now resides in relative anonymity.
Ironically, because Alexander was only a part of a long tradition of African-American Hawkeye standouts, his story hasn't been popularized the way it might have been had he played elsewhere.  But as a racial pioneer on and off the football field, Archie Alexander was an outstanding representative of the University of Iowa and a great part of the Hawkeye tradition.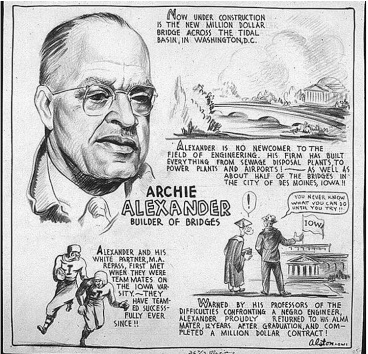 Tagged with: A. Ross Hill • Archie Alexander • Arthur G. Smith • Audra (Linzy) Alexander • Frank Holbrook • George F. Higbee • George MacLean • Hawkeyes Revisited • Jesse Hawley • John G. Griffith • Marsh Engineering Company • Maurice Repass
Filed under: Hawkeyes Revisited
Like this post? Subscribe to my RSS feed and get loads more!