As I have mentioned earlier, tonight my wife Ashley makes her professional football debut as a rookie with the DC Divas.  I truly couldn't be more proud of her.  It's time for a full-scale, all-out brag post about my incredible wife…who is obviously the athlete of our family.  And since Ashley has been converted to Hawkeye fandom, she's my latest profile in Hawkeye Personalities.
Ashley Ackerley
My wife was born Ashley Louise Ackerley on October 16, 1984.  What's strange is that she will see the numbers 10 and 16 together all the time in all different places.  Something notable always seems to happen at 10:16 AM or PM every day, or we'll be watching a football or basketball game where something happens with the score of 16-10.  Those two numbers seem to follow her around…it's kind of spooky.
Ashley's father Paul was born and raised in Britain near Cornwall, but he came to America and joined the United States Air Force.  He spent several decades in the Air Force, eventually rising to the rank of colonel, one step below general.  Colonel Paul Ackerley also served for two years as a wing commander of Andrews Air Force Base, and you can find numerous pictures of him escorting political dignitaries such as then-President George W. Bush and Britain's Queen Elizabeth II.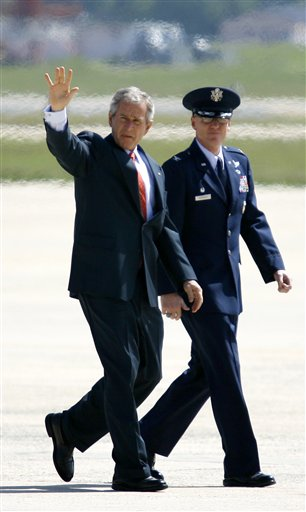 Like many military men, my father-in-law is a man of few words, particularly regarding his service to his country…which works out great for me, as there are many things I don't want to know.  It's natural to be nervous meeting your future father-in-law, regardless of the circumstances; throw in his tremendous accomplishments – and laconic nature – and I have to admit that I was a bit of a wreck when first meeting Colonel Paul Ackerley.  But he's a terrific guy, and I, for obvious reasons, have the utmost respect for him.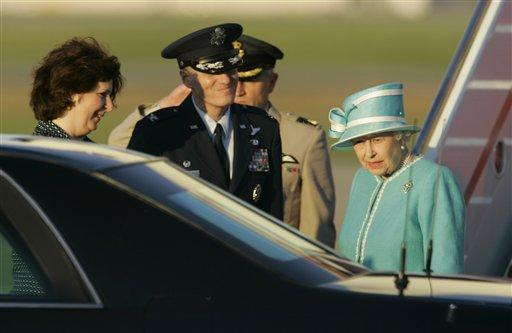 Okay, back to Ashley.  She is the oldest of four Ackerley children, and because of her father's service, she moved across the globe growing up.  She spent some time in Germany around age five (a place we visited on our honeymoon) and spent many of her formative years in the DC area and Mississippi/Alabama.  By the time she reached age 14, her father was stationed at Randolph Air Force Base in San Antonio, Texas, so she went to high school in Texas.
An Athletic Career Begins
As she entered high school, Ashley Ackerley began lifting weights daily with the football team.  She soon realized she had a promising future in women's athletics.  Ashley became a high school powerlifter and track field athlete, throwing the discus.  As a high school senior in 2002, Ashley won the Texas state championship in powerlifting.  She benched 195 pounds, squatted 400 pounds, and dead-lifted 400 pounds for a total of just shy of half a ton.  Winning a state championship in powerlifting – in a state as large as Texas, no less – was a remarkable start to her athletic career.
Ashley then accepted a scholarship as a field athlete for the track team at the University of Texas-San Antonio.  For two seasons, she threw the discus for the Roadrunners before she decided to transfer and move to the Washington, DC, area.  Ashley transferred to George Mason University in Fairfax, Virginia, a DC suburb.  She spent her final two seasons of eligibility as a field athlete with the George Mason women's track team.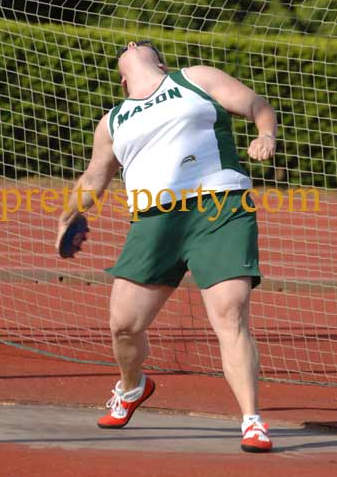 George Mason had featured several excellent women's field athletes from 1985-1997, but when Ashley arrived on campus in 2005, the program had hit a lull.  Ashley quickly made her presence felt, earning the Colonial Athletic Association Field Athlete of the Week Award on April 12, 2005.  As a senior in 2006, Ashley blasted her way into the George Mason record books, becoming the school's most accomplished field athlete in a decade.  In the weight throw for indoor track, she ranked sixth in school history by tossing the weight 15.36 meters; her 2006 heave was the best toss at Mason since 1997.  She also made her mark in outdoor track; her discus throw in 2006 of 43.48 meters placed ninth in school history (the best since 1996), while her hammer throw of 43.25 meters ranked seventh all-time at George Mason and was the best throw at the school in that event since 1997. 
Ashley developed a lot as an athlete at George Mason, and she occasionally laments only spending two years there and missing out on a chance to place even higher on those school record lists.  Still, to rank in the top ten all-time among George Mason women's field athletes upon graduation was an incredible accomplishment for Ashley as an NCAA Division I athlete.
Helping Other Student-Athletes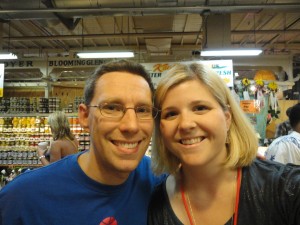 Ashley graduated from George Mason University in 2006 with a degree in public relations.  Her accomplishments with the track team as a senior coincided with George Mason's men's basketball team's incredible run to the Final Four of the NCAA Tournament in 2006.  That run to the Final Four gave George Mason more national attention than the school had ever received; even today, most people know of Mason from that remarkable basketball season.
Ashley left the DC region and accepted a job as the Director of Basketball Operations for Dartmouth University in Vermont.  Although she still speaks fondly of Vermont and Dartmouth, she wanted to have a more hands-on role in helping other student-athletes.  After one year, Ashley returned to Washington, DC, as an academic advisor for American University.
A few years later, Ashley Ackerley moved from the academic advising office to her current job as a life skills coordinator at American University.  Now armed with an online master's degree in Student-Athlete Advising from Kansas State University, Ashley is able to provide all sorts of advice and assistance to student-athletes at American University.  Ashley's job is to help ensure a comfortable transition for incoming student-athletes to AU college life, keep them focused (and academically eligible) on athletics during their tenure at AU, and provide them with guidance and life skills necessary for a positive transition away from college athletics and into the next phases of their lives.  It's a difficult but rewarding job that really highlights Ashley's skills and experience as a former Division I student-athlete herself.
Coffee Cake and Cardio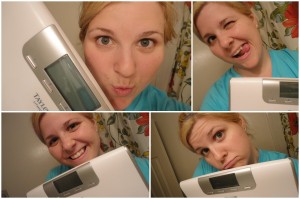 Probably one of Ashley's most difficult transitions away from competitive athletics involves her weight.  As a high school and college athlete, she was always encouraged to bulk up and consume as many calories as possible.  When she left competitive athletics in 2006, Ashley's weight began to spiral out of control, as her eating habits hadn't changed since her playing days.
Since then, she has managed to shed 35 pounds, but she continues to wage a constant struggle every day to maintain a positive (for her) body weight.  Ashley is too strong and has too much muscle mass to ever be razor thin, but she works hard to keep her weight under control by living and eating healthy.  Like most people, she's not perfectly happy with her current weight, but she works hard and is constantly examining new philosophies and products that could help her achieve her weight loss and healthy living goals.
In an effort to share her experience with others, Ashley started a website two years ago called Coffee Cake and Cardio.  The reception to her site has been enormous; she has been featured by Fitness Magazine and at the NBC4 Health and Wellness Expo, and her blog is much more widely read than anything I've ever written!  I'm very proud of Ashley and how people have responded to her sharing her story.
Hawkeye Personalities: Ashley Rozendaal
Ashley really is an amazing athlete.  A few years ago, she ran a half-marathon in Nashville, Tennessee, even though she admits she doesn't really like running!  But her best athletic asset has always been her strength.  I kid you not, she has some of the most muscular calves I've ever seen on anyone.  Anyway, I'm certainly hoping all her strength comes in handy on her next adventure.  Ashley is a rookie this season at center on the line for the DC Divas Women's Professional Football team.  They open their season tonight in Pittsburgh, and we're all excited to see how she fares!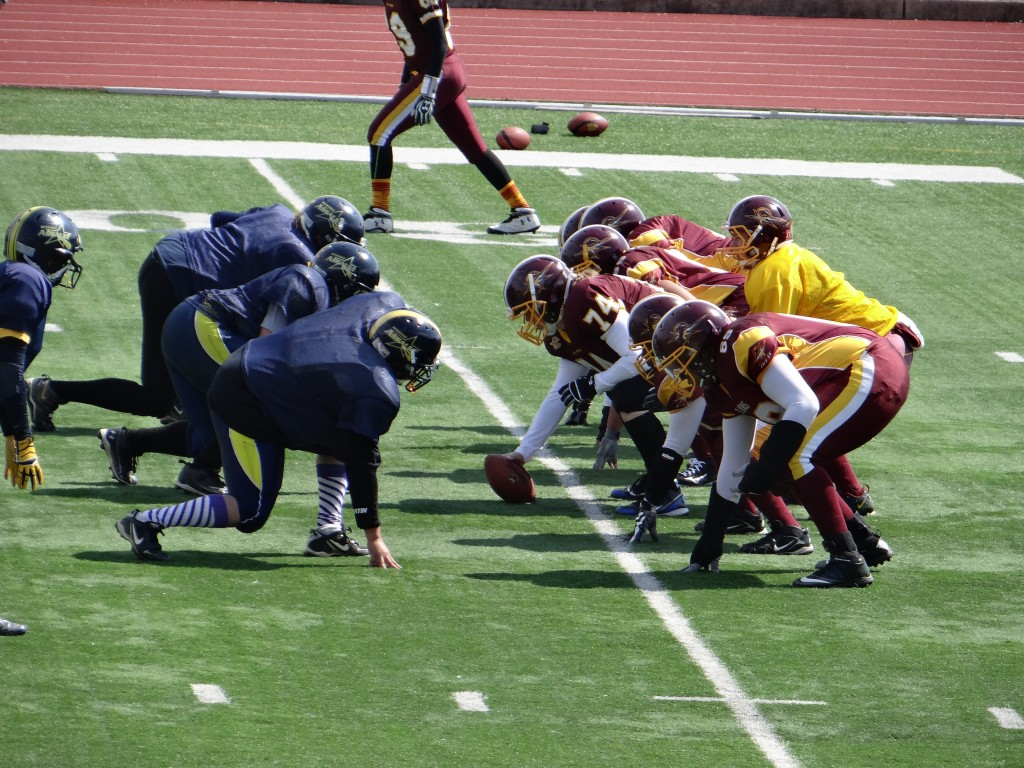 You won't find the name Ashley Ackerley on the roster, of course.  Ashley and I met back in 2009.  Our first date was at a Washington Nationals baseball game, so I thought this girl might be right up my alley!  Three years later, we were married.  Being a Hawkeye author is tough business.  I watch a lot of sports and do a lot of writing, and that's not always the easiest thing in the world for a woman to put up with.  Thankfully, Ashley is very supportive of what I do…and she has completely converted into quite a Hawkeye fan!  She insisted that we make the trip down to Charlottesville to watch the Hawks play in the NIT Tournament, for example.  Although George Mason will always be her first love, she's now also a true Hawk fan, and she's glad to be able to root for a school with a football team, too!
Without getting too sappy, Ashley has just been a real blessing to me in my life, and I'm very, very happy to have her by my side.  Good luck this weekend, sweetheart!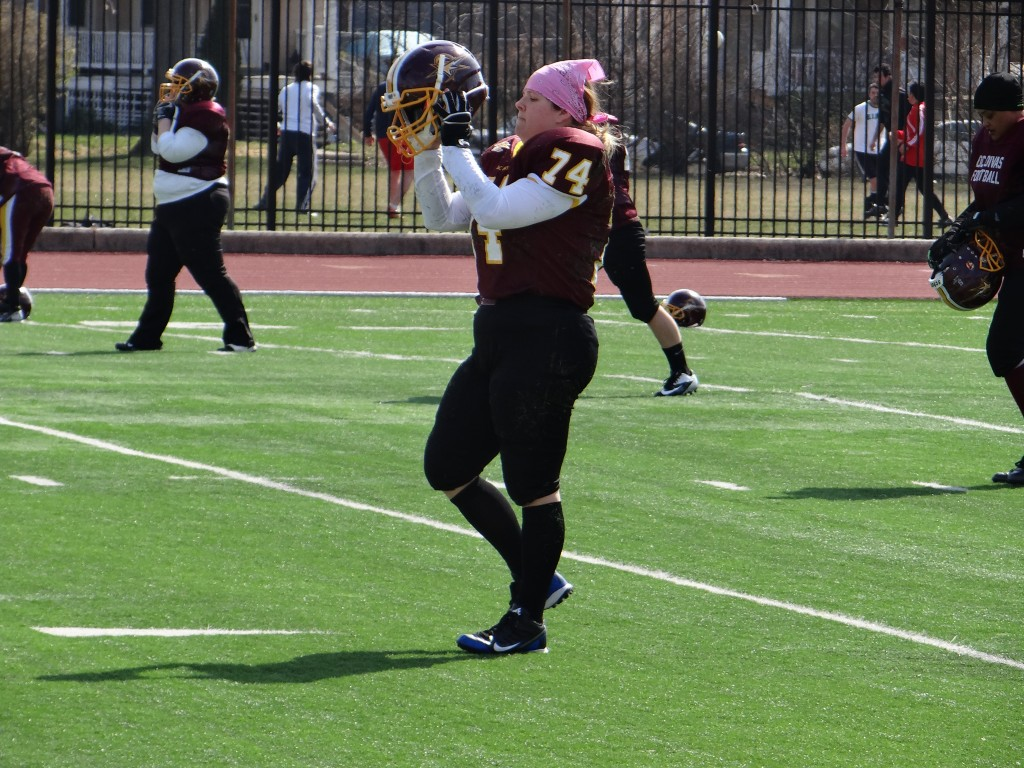 Tagged with: Ashley Ackerley • Ashley Rozendaal • Hawkeye Personalities • Paul Ackerley
Filed under: Hawkeye Personalities
Like this post? Subscribe to my RSS feed and get loads more!