Last night we said goodbye to college basketball for another season.  Wrestling season is over as well, and football is still five long months away.  What's a sports fan to do?  I always suggest reading a great Hawkeye sports book…which means it's time for another installment of Hawkeye Book Reviews.  Today we take a look at 75 Years with the Fighting Hawkeyes, by Dick Lamb and Bert McGrane.
75 Years with the Fighting Hawkeyes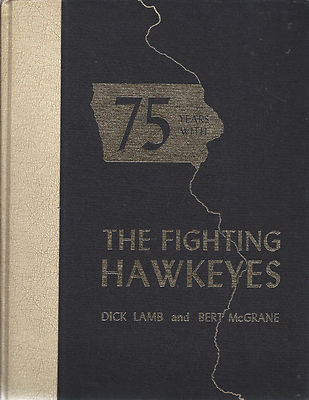 Book Details
Title: 75 Years with the Fighting Hawkeyes
Authors: Dick Lamb, sports historian; Bert McGrane, longtime sportswriter at the Des Moines Register
Publication Year: 1964
Publisher: Wm. C. Brown Company Publishers
Number of pages: 284 pages
Where to buy: Purchase link
Book Description
The University of Iowa played what is considered the first intercollegiate football game in school history in 1889.  From that point forward, the football program experienced some remarkable success, perhaps never more prominently than during the great run by Coach Forest Evashevski's Hawkeye teams from 1956-1960.  Perhaps as a way of putting these glorious Evashevski years into context, a few researchers in the late-1950s tried, for the first time, to chronicle the entire history of Iowa football.
The Iowa Athletic Department in 1958 enlisted two men – Dick Lamb and Bert McGrane – to write a complete history of Iowa football.  McGrane was one of the best known names on the national sports scene.  He worked for over four decades as a sportswriter for the Des Moines Register and was one of the main forces behind making the Register sports department one of the nation's best back in its day.  McGrane was also a founding member of the Football Writers Association of America and served as its executive secretary for three decades; the FWAA's top award, symbolizing the organization's Hall of Fame, is named after McGrane.  In 2006, McGrane was enshrined on the University of Iowa Media Wall of Fame at Kinnick Stadium.
Dick Lamb is far less well known today.  Lamb was a native Iowan who wrote syndicated, behind-the-scenes football stories for numerous newspapers and magazines.  He also collected football memorabilia; his personal collection was considered by Grantland Rice the largest ever assembled anywhere.  Dick Lamb was regarded as one of the sport's foremost historians in his time.  If anyone could compile a complete history of the Hawkeye football program, it would have been these two.
The book took them nearly six years to complete.  It was finally released in 1964, just in time for the dodranscentennial of Hawkeye football.  To commemorate the timing of that event, the book was titled 75 Years with the Fighting Hawkeyes (I commented on the "fighting" adjective of the Fighting Hawkeyes in a previous post).  It was organized chronologically into 23 chapters.  Here are the chapters and the topics they cover:
1. Football Pioneers in the Dawn of the Gay Nineties (1889-1897)
2. Dr. Knipe Builds Big Ten Champs (1898-1902)
3. The Lean Years (1903-1909)
4. Jess Hawley Takes Over (1910-1912)
5. One of the Best (1913-1915)
6. Birth of a Dynasty (Hiring of Howard Jones and 1916)
7. The War Years (1917-1919)
8. Two Conference Titles and Twenty Straight Victories (1920-1923)
9. Jones-Lambert Clash
10. The Knute Rockne-Iowa Affair
11. The Arrival of Burt Ingwersen and Paul Belting (1924-1926)
12. Prelude to Catastrophe
13. The Suspension
14. The Suspension – Memoirs of Professor F.G. Higbee
15. A Fieldhouse, A Stadium, Nearly a Championship (1927-1931)
16. Years of Despair (1932-1938)
17. The Ironmen and Nile Kinnick (1939-1941)
18. War Once Again (1942-1945)
19. From Anderson Through Raffensperger (1946-1951)
20. Forest Evashevski – The Beginning of an Era (1952-1955)
21. Championship Dreams Reach Reality (1956-1959)
22. A Coach-An Athletic Director – The Inside Story of a Feud (Evy-Brechler Feud and 1960)
23. Jerry Burns Assumes Command (1961-1963)
Positives
75 Years with the Fighting Hawkeyes starts off with a bang.  Opening the book's preface is a quote from – who else? – Nile Kinnick, where he reflects on the importance of the sport of college football in a way seemingly only Kinnick can.  His words have a startling relevance still today, when we weigh the merits of modern college athletics.
Rightly or wrongly, football is very definitely tied up with the status of a university.  The majority of people who go to college…don't get that wider horizon or that better mental equilibrium, but they do get the opportunity.  I think the same is true about football.

While possibly the majority of boys don't get those subjective values that I mentioned, certainly the opportunity is there and I think the values they do get are perhaps more intensely brought out than they are in an educational system itself.

As far as any activities I have been connected with are concerned, football has given me the opportunity to round out my philosophy and to change my thinking process more than any other activity with which I have been connected.

– Nile Kinnick
What follows is maybe the most authoritative and comprehensive history of the first 75 years of football at Iowa.  Almost every contest from 1889-1963 is given a paragraph or two, describing the highlights in or surrounding the game.  Most seasons are separated by a large yearly subheading, which makes it convenient for referencing a specific year of Iowa football.  At the conclusion of each year, Lamb and McGrane usually list out the team's biggest award winners, often with relevant statistics included; at the end of each decade, the authors select a "best of the decade" team, which really helps to point out who the star Hawk players were from each era.  There are also a large number of photos included in the book, so a fan can often put a face to the names of the early stars of Hawkeye football history.
There is also a very useful appendix, which contains several lists.  Many Hawkeye award winners from those early years are cited, including some awards that are now mostly defunct.  Lamb and McGrane even select an all-time team from the first 75 years of Iowa football; although it generously includes 45 people, it's still a pretty elite list of Hawkeye stars.  The appendix mentions 13 "single season performers" who stood out as one-year wonders for the Hawks, as well as 30 Hawks who earned four varsity football letters during an era dominated by freshman ineligibility.
Negatives
There are a few minor flaws in 75 Years with the Fighting Hawkeyes.  Two of the yearly headings – namely 1918 and 1926 – are mysteriously absent, which makes it inconvenient to locate those seasons at a glance.  Some of the seasons, particularly 1927, 1931, 1932, 1937, 1938, 1941, 1944, and 1946, are not given the same thorough examination as the others; granted, many of those seasons were less than successful for the Hawks, but they still deserved more analysis than they received.  
Finally, Iowa's month-long suspension from athletic participation in the Big Ten Conference in January 1930 is dwelled upon a bit too much.  The authors note this and justify it by writing:
The suspension, perhaps the most important single legislative bombshell to rock the Big Ten Conference in its more than 70 years of existence, is told here in all of its ramifications…The authors have included all details of the suspension in light of heretofore unpublished and uncirculated findings which are presented here for the first time.
While it was a very important event in the history of Hawkeye football and well worth noting, the authors proceed to discuss the event over 38 long pages.  Given the scope of the rest of the book, that's probably overkill.
Hawkeye Book Review Rating
No book is perfect.  All of the negatives I mentioned about the book are legitimate, but they are dwarfed by the fact that 75 Years with the Fighting Hawkeyes continues to be perhaps the ultimate resource on Iowa football history, nearly half a century after it was first published.  When I have a question about a game, coach, or player from the early era of Hawkeye football, 75 Years with the Fighting Hawkeyes is the first book I consult.  More than that, it's a genuinely entertaining read.  This book is, simply put, a masterpiece and – in my mind – the greatest book ever written about Hawkeye football.
Hawkeye Book Review Rating: 10.0 (Essential reading)
Tagged with: 75 Years with the Fighting Hawkeyes • Bert McGrane • Dick Lamb • Hawkeye Book Reviews • Nile Kinnick
Filed under: Hawkeye Book Reviews
Like this post? Subscribe to my RSS feed and get loads more!