Duke Slater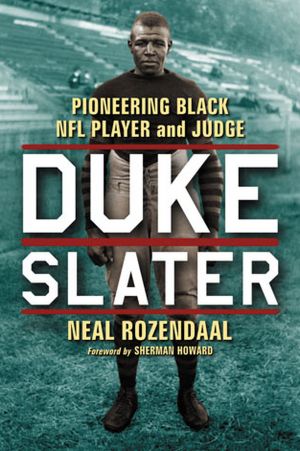 Duke Slater
McFarland & Company
July 11, 2012
Overview
Fred "Duke" Slater was the greatest African-American football player of the first half of the 20th century. Born into poverty, he developed into a two-time All-American tackle at the University of Iowa from 1918 to 1921. When the College Football Hall of Fame opened decades later, Duke was the only African-American elected in the inaugural class. He then became the first black lineman in National Football League history in 1922, embarking on a remarkable ten-year career in the NFL.
Incredibly, Slater was the only African-American in the entire NFL for most of the late 1920s, yet he was widely recognized as one of the League's best linemen. But his pioneering influence extended beyond the gridiron. After retirement, he broke ground in the legal field as just the second black judge in Chicago history. On the field or on the bench, the inspirational life of Judge Duke Slater is a true American success story.
Reviews
"[Duke Slater] should be on the bookshelf in every library in the state and in the private library of every Iowan…It is very well-written, extremely well-documented, and a joy to read." – Mike Chapman
"Every football fan in the state of Iowa ought to latch onto this book.  It's one of those books you can't put down once you get into it…If you're into history at all, this is an absolute must-read." – Gary Dolphin
Online Ordering Instructions
You can purchase Duke Slater here for $29.99 (with free shipping included!)  There are two ways to order.  To order online, just click on the PayPal link below.  If you would like your copy autographed and/or personalized, simply add the request in a note to the seller before you checkout in PayPal, or contact me here.
Mail Ordering Instructions
You can also order by mail.  Just mail your payment (by check or money order) to the following address:
Neal Rozendaal
13017 Wisteria Drive, #182
Germantown, MD  20874
And of course, be sure to include your return address where the book(s) can be sent!  If you would like your copy autographed and/or personalized, just include a note with your payment.
Thank you very, very much for your support!