Hawkeye Greats, By the Numbers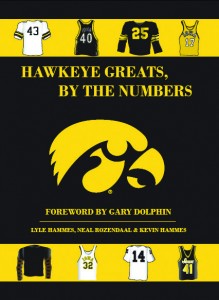 Hawkeye Greats, By the Numbers
Trafford Publishing
October 15, 2010
Overview
Almost every great Hawkeye football or men's basketball player is closely associated with the jersey number he wore for the University of Iowa. Hawkeye Greats, By the Numbers profiles fifty of the most outstanding athletes to play for the Iowa Hawkeyes. The players selected have been arranged not by the years they competed or sports they played, but rather by the jersey numbers they wore at the University of Iowa.
Detailed research was conducted by the authors over several years to determine the jersey numbers of Iowa football and men's basketball players dating back to 1914. In preparation for the book, the authors spoke with nearly sixty prominent names in Iowa sports. Most of these contributors provided original quotes and stories which are included in the book.
One Hawkeye player is profiled as the most outstanding athlete at each number with others included as honorable mentions. Because of the unique format of the book, the featured athletes are an eclectic group, spanning different sports and eras. They include both obvious fan favorites as well as Hawkeyes that many fans may not be familiar with. Several of these players have never before been extensively profiled in any Hawkeye book. As a result, Hawkeye Greats, By the Numbers becomes a somewhat random and curious stroll through the people responsible for Iowa's rich athletic tradition.
Reviews
"Hawkeye Greats, By the Numbers makes for fun reading in a concept I'd never heard of before in a sports book." – Ron Gonder
"Each chapter is loaded with interesting anecdotes, facts, figures, photos, and illustrations…The authors published the book to have some fun and provoke discussion, and they hit the bulls-eye." – George Wine
Online Ordering Instructions
You can purchase Hawkeye Greats, By the Numbers here for $20 (with free shipping included!) There are two ways to order. To order online, just click on the Paypal link below. If you would like your copy autographed and/or personalized, simply add the request in a note to the seller before you checkout in Paypal, or contact me here.
Mail Ordering Instructions
You can also order by mail. Just mail your payment (by check or money order) to the following address:
Neal Rozendaal
13017 Wisteria Drive, #182
Germantown, MD 20874
And of course, be sure to include your return address where the book(s) can be sent! If you would like your copy autographed and/or personalized, just include a note with your payment.
Thank you very, very much for your support!