28 Day Slater: Day 2
"Duke, in his day, was a pigskin Emancipation Proclamation. What Jackie Robinson was to baseball at a much later date, Duke Slater was to collegiate football."
– Dick Hackenberg, Chicago Sun-Times
I am a proud graduate of the University of Iowa. Duke Slater first rose to prominence as a college football legend at the University of Iowa, and I have that connection to thank for my stumbling onto his story.
Duke Slater grew up in poverty on the South Side of Chicago. His father, an African-American minister, took a job at a church in Clinton, Iowa, when Duke was 13. Slater was a standout for the Clinton High football team from 1913-1915 before achieving national fame in Iowa City.
Slater played football for the Iowa Hawkeyes from 1918-1921. This was the single-platoon era, which means that players played on both offense and defense. Slater was a right tackle on offense and a defensive end on defense.
You'll notice that Duke Slater played at Iowa during and just after World War I. You might suspect that black athletes playing football at major colleges was a rarity at that time, and you'd be right. While not unheard of, black college football players were few and far between from 1918-1921…and almost none played with the dominance that Slater displayed.
Slater was named a second-team All-American after his sophomore season, becoming just the fifth black college football player to earn such lofty honors. But Duke Slater really shook up the college football world two years later as a senior at Iowa in 1921.
The 1921 Hawkeyes went undefeated and won the Big Ten outright for the first time in school history. The Hawkeyes were the undisputed champions of the Midwest and had a legitimate claim as the best team in the entire country.
Duke Slater was named a first-team All-American by several selectors in 1921 and was widely recognized as one of the top football players in the nation. For his career, Slater was the centerpiece of four great Hawkeye teams, with a career record of 23-6-1 in four seasons at Iowa.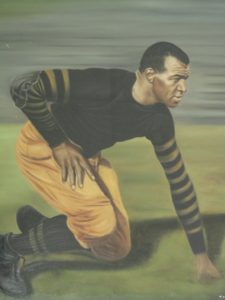 In the decades after his college playing days were over, Duke Slater was praised as one of the greatest linemen in college football history. In 1946, a nationwide panel of several hundred sports writers chose 11 players for an all-time college football All-American team – the eleven greatest players from the first 75 years of college football. Duke Slater was one of the 11 men they chose to honor for the award in a ceremony at Soldier Field in Chicago that year.
Five years later, the College Football Hall of Fame opened on the campus of Rutgers University in 1951. Duke Slater was elected as a member of the inaugural class of the College Football Hall of Fame, the only African-American so honored.
Duke Slater was a true trailblazer in college football and left an indelible mark on the University of Iowa. As Bert McGrane wrote when he was inducted into the State of Iowa Athletic Hall of Fame in 1951, "Duke Slater! He holds a place all his own in Iowa football. No Hawkeye in history has been held in higher esteem."
Read all about the incredible life of Duke Slater in his definitive biography, available here!