While I announced the WFA's tier system in a post a while ago, I've haven't yet had a chance to comment on it. There are a few issues surrounding it that I want to address, followed by a few of my views on some trending issues in women's football at the moment. Let's go!
Who's In Tier 1?
Since I announced the WFA's tier system a couple weeks ago, I have had multiple people ask me when the WFA would make a public confirmation of the info I released. I told them I didn't know, but that it was expected "shortly". That's still the timeline we are on…I don't know when we're going to hear the tier system explained from the horse's mouth. In the meantime, consider me your horse. 😛
I had a couple of interesting comments from readers on my tier system article that I wanted people to see and to which I wanted to be able to respond. The first comment comes from Baker, who wrote as follows:
The Tier 1 team that seems out of place to me is the Cleveland Fusion. No disrespect intended – they already lost to Tier 2 Indy Crash last week 20-0. I think the Boston team will beat them convincingly today, but I would love for them to prove me wrong!

Thanks for the great summary Neal. I'm excited for this season – lots of great match ups to look forward to!
It's actually worth noting that two WFA1 teams lost to WFA2 teams the first week of the season. Not only were the Cleveland Fusion defeated by the Indy Crash, but the Atlanta Phoenix were edged by the Tampa Bay Inferno, 17-14.
None of that is troubling in the least. The lines between WFA1 and WFA2 are blurry, and they will always be. For instance, in college football, "Group of 5" conference teams (formerly known as "mid-majors") defeat "Power 5" conference teams all the time. Similarly, Division I-AA teams defeat Division I-A teams all the time, particularly when the Division I-A team is a Group of 5 team.
You're never going to be able to create a hard line where a WFA2 team can't or won't take out a WFA1 team. Furthermore, in a perfect world, WFA2 teams that consistently beat WFA1 teams would have an opportunity to eventually move up to WFA1 and the converse for WFA1 teams that consistently lose to WFA2 teams.
It's important to note how the WFA tier structure was set up. Teams were slotted into tiers based on two general criteria – how long the franchise has been around and how many players they have listed on their roster. Older franchises and those with more players were slotted into higher tiers; newer franchises and those with fewer players were slotted into lower ones.
However, and this is important: while no team was allowed to play below the tier where they were slotted, every team was given an opportunity to choose to play up a tier. In other words, if you were slotted into WFA2, you couldn't play in WFA3…but you could choose to play in WFA2 – where you were slotted – or to play up into WFA1.
So it's important to remember that WFA1 isn't just about play on the field. Some WFA1 teams were slotted into that tier due to their large rosters, but some were slotted into WFA2 yet chose to compete in WFA1 anyway. The common denominator of every WFA1 team is that, come playoff time, these are the 13 teams that want to compete for the top crown against the very best teams in the WFA.
The Cleveland Fusion are absolutely in that group. Now, are they going to contend for the WFA1 title? Based on the season results so far, it doesn't look like it this year, no. But about half the teams in the NFL aren't really contenders for their league title, either. You're never going to be able to construct a 12-team women's football league where #12 is an equal contender for the title as #1…even the NFL can't do that, and they have more tools at their disposal to create parity than women's football has (or will probably ever have).
Here's the point…WFA1 isn't designed to include precisely the top 13 teams in the WFA. It's easy to think it was designed to do so, but the reality is that that would be an impossible goal to achieve. However, what the tier system does do – particularly in the first year of its existence – is give fans a pretty good idea of not only who the top teams and organizations are in the WFA, but also which organizations have declared their intentions to go toe-to-toe with those teams by self-selecting themselves into WFA1.
To be clear, I'm not denigrating those who choose to play in WFA2…if that's where you are at this stage in your development, then get out there and knock 'em dead! But I have an enormous amount of respect for teams like the Cleveland Fusion who say, "Heck with being a strong contender in WFA2…I want to play the best of the best. I'd rather take my lumps in the playoffs against the top teams while being recognized as a WFA1 team than play at a lower level." I salute the heck out of that mentality…that kind of ambition is vital to growing this sport, and not every team has it. That's why all 13 WFA1 teams are truly the cream of the crop, even if a game result or two doesn't go their way.
Who's In The Playoffs?
Theresa chimed in with a few concerns about the WFA playoff structure:
While I am a fan of the tier structure, it seems that for some teams in some regions there isn't a huge incentive to play their hardest until playoff time. For instance, in WFA2, there are only two teams in one of the regions, so they will automatically make the playoffs. And to have every team in the top tier make the playoffs, except one in one region seems unfair. If they are going to have tiers, they need to take away geographic regions in determining playoff spots and go off records and strength of schedule. Playoffs should be a reward for a great season, not inevitable because of not many teams in your region.
I mentioned when I announced the tier system the logic of having every team in WFA1 (or, as it turned out, 12 of the 13 teams) make the playoffs. First, it's difficult to tell teams in WFA1 that they can't make the playoffs when they could easily make the playoffs in WFA2. As I mentioned above, some of the teams in WFA1 could have been slotted into WFA2 by the usual criteria but decided to challenge themselves and play up into WFA1. They did so knowing that while they might be contenders for a WFA2 crown, they would be a long shot to win the WFA1 title.
You want to reward and incentivize that level of ambition so that WFA1 doesn't become a level occupied by only about five teams…if that happens, the tier system completely falls apart. So it doesn't make sense to punish those teams who might dominate in WFA2 but who could struggle in WFA1 for their choice to play in the higher tier by banning them from the postseason. I strongly believe that there needs to be some fringe benefits for playing in WFA1…you have to give teams that have a choice between WFA1 and WFA2 some rewards for choosing to challenge themselves and play up. An automatic playoff berth makes sense, since these are 13 teams that would make the playoffs in about any league and any playoff structure out there most years.
Moreover, I can tell you that there is a ton of incentive for every WFA1 team to play hard in the regular season, even if a playoff berth is not at stake. Yes, they are guaranteed to make the playoffs (except in the Pacific Region), but home field advantage and seeding is still a substantial incentive.
I work for the front office of the D.C. Divas, and I can tell you…come playoff time, they sure as heck don't want to travel to Boston or Chicago. Not just for the home field advantage in terms of winning and losing the playoff game, but they'd also much rather make those teams spend thousands of dollars to travel here rather than vice versa. In fact, if you think about it, the outcomes of some of these regular season games have thousands of dollars riding on them, because the loser is going to bear a heavy playoff travel expense.
So I'm not worried about teams not wanting to play hard in the regular season, even if the playoffs are guaranteed. When the D.C. Divas line up against the Boston Renegades, it wouldn't even matter if both teams had somehow improbably already missed the playoffs and there was no playoff incentive on the line at all for either team…those teams are going to play hard against each other, no matter what. All these WFA1 teams are highly competitive, just by the nature of being in WFA1, and they all realize that winning is as much of a habit as losing is. You don't want to start losing just because you can afford to; you might get too comfortable with it.
On the other hand, in an ideal world, making the playoffs should not be inevitable for teams in WFA2 and WFA3. I totally agree with you on that. Those playoff spots should not be guaranteed, because teams playing there are usually doing so because that's where they were slotted to play. And playoff spots aren't guaranteed in WFA2 (or even WFA3, where the structure and size of the playoffs isn't set in stone yet) with the exception of the two teams you mentioned in WFA2's Midwest Region.
However, I don't believe the WFA wanted to give those two WFA2 teams in the Midwest Region an automatic playoff spot…that's just how it turned out this year, a result of having too few teams in that one particular region in that tier this time around. If there were a few more quality teams in the Midwest Region in WFA2 (like, oh, say, I don't know, the Nebraska Stampede, perhaps), you'd see a more balanced playoff format. The point is, the auto-berths in WFA2's Midwest Region are an exception this year, not the designed ideal.
And as for the idea of taking away geographic regions as a factor in determining playoff spots, as long as travel costs are a huge concern in women's football (which will be true for the foreseeable future), geography will trump records and strength of schedule when creating the playoff bracket. It's a financial necessity.
Those are my thoughts. I want to thank Baker and Theresa for reading, for their comments, and for stoking the conversational fires here!
The Potential for a Superleague?
I want to elaborate a little bit on why I'm so bullish on the WFA's tier system. Fans have been clamoring for a superleague for some time, and I think WFA1 could set the foundation for something like that.
The biggest drawback I hear is that WFA1 can't be considered a superleague because it isn't "self-contained"…in other words, WFA1 teams play teams from the lower tiers in the regular season. If WFA1 were self-contained, where every WFA1 team played only fellow WFA1 teams all year long, then I think WFA1 would have to be considered a true superleague in women's football.
The problem is that it's hard from a travel standpoint to get every team in WFA1 to play a full eight-game schedule against only other WFA1 teams. So let's rethink the whole thing. An eight-game regular season is a tradition in women's football, but it's not a requirement. In a true superleague scenario, maybe we could explore fewer than eight regular season games for every team.
I could see all teams in a self-contained superleague structure agreeing to a six-game regular season schedule. Every team could play three home games and three away against nothing but top competition. I could see that working.
Four games, on the other hand, is a lot tougher…it seems too LFL-ish for me. Moreover, it's hard to convince women to train for months and months on end just for two home games and two away. (Don't even get me started on how the LFL has teams play games in back to back weeks and then go on hiatus for a month and a half.)
Okay, so if you're going to make WFA1 a self-contained superleague where every team only plays other WFA1 competition, six regular season games seems perfect. Not every team in WFA1 is ready from a travel standpoint for even a six-game schedule against WFA1 competition, however. So what can you do?
Well, first, while we wait for teams to be ready for that structure, the WFA can use WFA2 and WFA3 teams to fill out WFA1 teams' schedules. Teams from lower tiers can help teams in WFA1 get to an eight-game schedule.
Meanwhile, we can monitor how many WFA1 opponents every WFA1 team plays, working to try to get every team up to six. As an intermediate step, first the league needs to work to get every WFA1 team playing four games against teams on their own tier. Once every WFA1 team is up to six WFA1 opponents, then we'll know the superleague concept is actually viable.
What I love about the WFA's tier structure is that it makes the challenges with creating a superleague apparent. Which WFA1 teams would have a hard time putting together a six-game schedule against WFA1 competition?
I know the Boston Renegades would have absolutely no problem with it…they're already playing six WFA1 teams this season. The D.C. Divas are right behind them, playing five WFA1 teams despite – for some insane reason – not playing either of the two WFA1 teams (Pittsburgh and Cleveland) located geographically closest to them!
Here is a look at the number of WFA1 opponents played by each WFA1 team this year.
Boston Renegades – 6
D.C. Divas – 5
Dallas Elite – 4
Cleveland Fusion – 3
Pittsburgh Passion – 3
Chicago Force – 3
Arlington Impact – 2
Central Cal War Angels – 2
Pacific Warriors – 2
Seattle Majestics – 2
Portland Fighting Shockwave – 2
Atlanta Phoenix – 1
Kansas City Titans – 1
As you can see, we are a long ways away from every team getting that number up to six! But looking at the teams near the bottom spells out the challenges for a superleague.
Take Atlanta, for instance. I think the Atlanta Phoenix organization is a solid one and could be grown to expand their number of WFA1 games in the future. Their one game this year against the D.C. Divas is on the road; they technically deserve a return game, so let's give them credit for two. Could they be compelled to have another home-and-home with a northern team like Pittsburgh? Probably.
But I honestly don't think Atlanta can get to six unless there's another WFA1 team in their region – as it stands now, they're too geographically isolated to make a six-game schedule work without another team in the Southeast. What the WFA needs is another excellent, Atlanta-level team in the Southeast, preferably in Florida.
I believe that much of the success of the Dallas Elite has been due to the fact that they've established themselves as a "magnet" team in central Texas, drawing top-drawer talent from all across the center of that very large state. I've always been surprised that no team has been able to follow that formula in Florida…that a team hasn't been established in Central-South Florida (say, in Orlando or Tampa) that draws all the top-tier, elite Florida talent from Orlando, Daytona, Tampa, and Miami onto one team. A Florida team like that could contend with any team in the sport, inside or outside the region.
If, for example, Tampa could get to that level, then Atlanta should be able to put together a six-team WFA1 schedule – home-and-home with Tampa (which they're already doing from a travel perspective), home-and-home with D.C. (and they're already playing the road game this year), and home-and-home with one other team. I think Atlanta could absolutely swing that, organizationally.
But you see, Tampa would not only need to be strong on the field…they'd need to be strong enough organizationally that they could then play a six-game WFA1 schedule. That's where it gets tough…they'd not only need to be a powerhouse on the field but off it…enough to play two out-of-region home-and-home series' annually just like Atlanta.  And that's actually a bigger challenge for a team than on-field strength.
You see the same problem all throughout the Western Conference, where the travel distances are greater. Look at Arlington…their only WFA1 games are their home-and-home with Dallas. How much easier would it be if there were a third WFA1 team in Texas…say in Houston? If the Houston Power could join forces with the Energy or the Wildcats for an elite team in Houston, it would not only re-ignite the old Dallas-Houston rivalry of the WPFL days but would make it easy for Arlington to play one home-and-home series outside of their region and get to the six-game WFA1 mark with home-and-homes against Dallas, Houston, and a team like Kansas City.
Of course, unless Kansas City wants to play home-and-homes with three Texas teams every single year, they could use a local WFA1 rival as well. This is where you're banking on the growth of a team like St. Louis, which ought to have the potential to be a major market itself.
This is what I'm getting at with the superleague idea: WFA Tier I is about five really good teams away from making it happen. Florida, the Midwest, Houston…one team in each of those regions and a couple more on the West Coast and you have the basis for an 18-team superleague that could be self-contained with the very best teams in the sport. Those are the things that become apparent when the top teams in the WFA get a tier all to themselves.
Where Does the IWFL Stand?
Finally, I had someone ask on Facebook about the IWFL…specifically, what tier the IWFL teams would fall into. That's an impossible question to answer, of course…as I mentioned above, the only difference between some WFA1 teams and their WFA2 counterparts is a willingness to play in the higher division.
But since that's no fun, I'll play along. First, there are several teams in the IWFL that wouldn't even qualify for WFA3. Note that in order to play in WFA3, you still have to play a full schedule of games against an array of opponents…something that several IWFL "affiliate" teams don't do. For example, the Central Valley Mustangs are listed as an IWFL affiliate team but aren't on the league's master schedule anywhere. If they were even allowed in the WFA (and they likely would not be), they'd probably have to play in a new tier like WFA4.
I think the rest of the IWFL affiliate teams – who are affiliate teams solely because they chose to not pay the full IWFL franchise fee – would fit best in WFA3 from a competitiveness standpoint. After all, WFA3 is also marked by a discounted league fee, so there are parallels there.
Most of the full-member teams in the IWFL would probably be slotted into WFA2 if they were a part of the league. But again, every team in WFA2 has the option of competing up into WFA1 if they so choose, and there are a number of teams – like the New York Sharks, Houston Wildcats, Carson Bobcats, and others – who would not only probably choose to do so but who would be competitive enough on the field to fit seamlessly into WFA1.
Finally, there is one IWFL team that would definitely, unequivocally be slotted into WFA1, and that's the Utah Falconz. If they were in the WFA, they'd be a Tier I team, without question.
As you can see, it's not a question of, "What tier would an IWFL team play in?" The variation of skill levels between teams within that league, and within all leagues, is wide enough to make the answer to that question nothing but speculation. Fun to think about, though.
Random Hash
For those new to this site, Random Hash is my term for a commentary in which I quickfire a few topics in succession. Here are a couple women's football talking points on my mind:
* Positive reviews for The Women's Football Encyclopedia continue to roll in!  I've had people tell me, at the risk of sounding sacrilegious, that my book is like the Bible of women's football stats and history.  Thank you to everyone who has already purchased a copy of my book!  First-run, numbered copies of my book are going fast, but I still have some left if you'd like a copy of your own.  If you've been interested in picking up a copy but have been putting it off, go ahead and pull the trigger…you won't regret it!
* I've had a number of conversations with coaches who are baffled that while the WFA requires players to register with the league, it doesn't require the same of coaches. Every player has to pay a registration fee and be listed on the WFA website in order to play, but there are no such requirements for coaches! Kind of crazy.
A modest proposal…the WFA should start registering and listing coaches on their website along with players. All coaches should be required to pay a nominal registration fee, just as all players do. Here's the kicker: part of that registration fee (and a requirement for every WFA coach) should go toward enrolling them in USA Football's Heads Up program. Let me put this another way: Every coach in the WFA should be Heads Up certified. It's 2016, people. It doesn't cost that much, and it's the least we can do in the interest of player safety.
* While we're at it, it'd be nice to get as many women's football coaches as we can to become members of the American Football Coaches Association (AFCA). It's a great organization where coaches can learn about the latest coaching techniques, network with other coaches, and just spread the general awareness and knowledge of women's football throughout the coaching ranks. One of the keys to elevating this sport isn't just increasing the player talent pool but also continuing to bring in talented coaches as well. Being an AFCA member means spreading your name and the idea of women's football throughout the coaching community, and that could yield huge benefits for this sport down the road.
* Any female coaches out there? There's a great new website dedicated to female coaches of all sports. Check it out if you have a chance.
* Lastly, I am a member of a group called the Professional Football Researchers Association (PFRA). Their interests are wide and varied, but basically, they study the history of the sport of football (think SABR for football). The PFRA puts out a bi-monthly newsletter called Coffin Corner, which highlights articles about all aspects of football history written by PFRA members. There was actually an article about women's football in Coffin Corner back in 2000 (when the sport really got going again), but I wanted to get the PFRA up to date on the current status of the sport. So I wrote an article outlining the history of women's football in the 21st century.
I'm pleased to announce that not only was the article on women's football included for publication in the newsletter, but it was chosen as the cover story for their March/April publication! They also wanted photos to go along with the story, but since I work for the D.C. Divas, they wanted to feature other, non-Diva teams in their photographs, so there are a couple photos in the article from several different teams.
Now, as I mentioned, my article was chosen as the cover story. And what non-Divas player could be better to feature on the cover than Pittsburgh Passion quarterback Lisa Horton? I can't think of a better one. In an odd twist, that led to the Coffin Corner cover shot becoming something of an IWFL advertisement. So never let Kezia Disney say I didn't do anything for her. 😛
Anyway, I think the whole thing turned out great. You can take a look at the latest Coffin Corner cover below. If you love football history the way I do, check out the PFRA and consider becoming a member…their insight into the pro history of the sport is truly incredible.
I think that's enough Random Hash for now. Thanks for reading, everyone!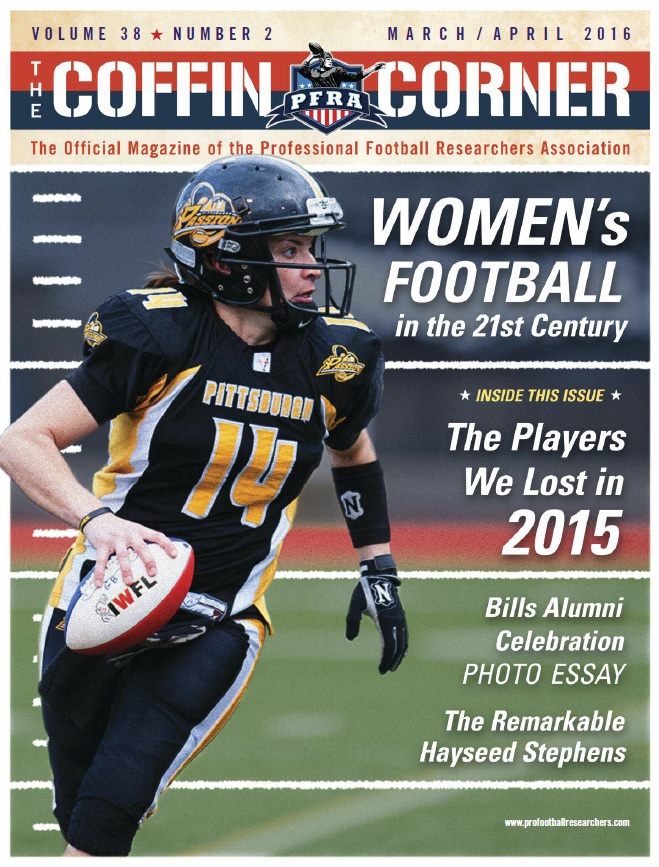 Filed under: General