Sunday, August 12th, 2012 at 6:00 am
(This is part of a special series on Hawkeye Olympic medalists.)
To commemorate the closing of the 2012 Olympic Games, we finish this series with the greatest Hawkeye Olympian of all.
Dan Gable
Most Hawkeye fans already know the story of Dan Gable, but here it is one more time.  Gable wasn't allowed to wrestle on the high school varsity wrestling team as a freshman, but he bounced back to win three straight state championships, going undefeated during his entire three-year prep career.
Gable's high school dominance was fueled by personal tragedy.  On May 31, 1964, Dan's older sister, Diane, was brutally raped and murdered in the Gable family home while Dan and his parents were on vacation.  One of Gable's classmates pled guilty to the crime and was sentenced to life in prison.  Dan Gable, then a high school sophomore, later said that the tragedy gave him a singular passion for wrestling.  He used the sport as a way to divert his parents' attention away from their mourning.
Dan Gable was a dominant, undefeated high school wrestler.  Now it was time for college, and he made the unfortunate decision to attend college in Ames.  Gable continued his dominance in college, right up until his final match.  Gable won his first 181 career matches; after sitting out as a freshman, he won NCAA championships his sophomore and junior seasons.  As a senior, Gable made the NCAA championship match with a 181-0 career record.  He faced Larry Owings of the University of Washington in the final college match of his career, a match you can watch here.
As fate would have it, Gable had a one-point lead with just thirty seconds left in the match against Owings.  Gable could have stalled and probably coasted to a win.  But in typical Gable style, he got aggressive and tried to score more points.  He was left in a vulnerable position, and Owings attempted a leg sweep, a maneuver he seldom if ever used.  But this time, he executed it perfectly and scored a takedown against Gable.  Owings seized the lead, and that was the match.  Gable was defeated, 13-11, in a match that has gone down as one of the greatest upsets in sports history.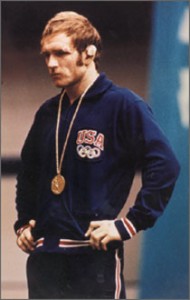 The 1972 Olympics
Gable actually tried out for the 1968 Olympics, but he fell short in his bid to make the U.S. Olympic team at the National Trials.  Four years later, he qualified for the 1972 Olympics in Munich, and Gable finally achieved the perfection that eluded him in college.  He had to get through six matches on the way to the gold medal.  Dan Gable dominated all six matches, winning every match in shutout fashion.  He claimed the gold medal without allowing a single point to be scored against him, one of the greatest Olympic performances in the history of the Games.
A Legendary Hawkeye
What was even more amazing is that Gable's dominant Olympic performance came despite the fact that he was wrestling with an injured knee.  Before every match, he had to tape his knee up, and while training in Ames, he often had to pay for the tape out of his own pocket.  Hawkeye supporters learned this.  Gary Kurdelmeier, who had just become the head wrestling coach at Iowa, lobbied Gable to become his top assistant and successor.  As a show of goodwill, the Iowa training staff provided Gable with a whole case of athletic tape…enough to sustain him through the 1972 Munich Olympics.
Gable never forgot the gesture, and after the Olympics, he accepted Kurdelmeier's offer to become his chief assistant.  Kurdelmeier coached Iowa for four seasons and led Iowa to national championships in 1975 and 1976, the first two NCAA titles in the history of Iowa wrestling.  Coach Kurdelmeier then retired, leaving the program in the hands of Gable.  Dan Gable took over the Hawkeye program and established what was perhaps the greatest dynasty in American sports.  In 21 seasons, Gable led the Hawks to 21 straight Big Ten championships and 15 national titles.
If you stop by Iowa's basketball and wrestling facility, Carver-Hawkeye Arena, you'll be greeted by a seven-foot bronze statue of Dan Gable, a Hawkeye coaching icon and one of the greatest Olympians ever.