The Women's Football Encyclopedia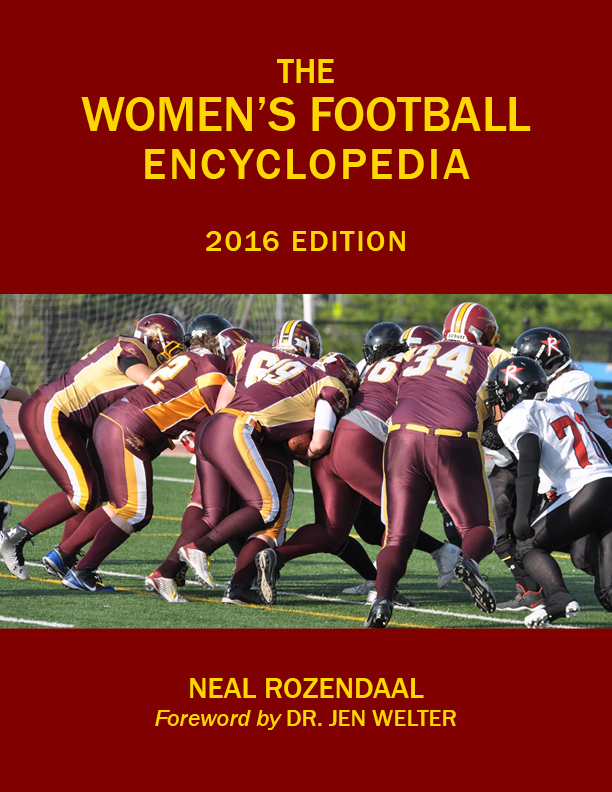 The Women's Football Encyclopedia
Rozehawk Publishing
January 20, 2016
Overview
The Women's Football Encyclopedia is the greatest reference ever published on the under-publicized sport of women's football. After nearly three years of research, the following information and statistics – unavailable in any other publication – have been collected in The Women's Football Encyclopedia:
• Game-by-game and year-by-year results for nearly 300 women's football teams
• Over 5,000 individual game results
• A chronological season-by-season history of the sport
• Yearly standings for 16 former and current women's football leagues
• A classification system for all league and national champions
• A listing of several women's football team records
• Franchise player registers with the names of over 10,000 female football players
Also included are chapters on the "first era" of women's football from 1967-1985, the perversion of the sport known as lingerie football, and the explosive growth of women's football abroad. With over 400 pages of data collected in one place for the first time, The Women's Football Encyclopedia is the most comprehensive source of information ever assembled on the other half of America's greatest sport.
Reviews
"The Women's Football Encyclopedia recognizes the thousands of pioneering women of the gridiron who have lived out their dream to play football. This book is unbelievable and truly a gift to women's football." – Lisa King
"I love it! This book blew my expectations away, by far. This encyclopedia is loaded with accurate statistics, and the level of detail is amazing." – John Konecki
Excerpts
Addenda
Ordering Instructions
You can purchase The Women's Football Encyclopedia right here! Hardcover copies are $34.99 and paperback copies are $24.99 (with free shipping included!) There are two ways to order. To order online, just click on one of the PayPal links below.
For a hardcover copy for $34.99, click on the link below.
For a paperback copy for $24.99, click on the link below.
You can also order by mail. Just mail your payment (by check or money order) to the following address:
Neal Rozendaal
13017 Wisteria Drive, #182
Germantown, MD 20874
And of course, be sure to include your return address where the book(s) can be sent!
Autographed/Personalized Copies
If you order a book directly from me and would like your copy autographed and/or personalized, simply:
add the request in a note to the seller before you checkout in PayPal if ordering online, or
include a note with your payment if ordering by mail.
You can also contact me here to request having your copy autographed.  Please note: if you'd like your copy of the book autographed or personalized, please add five to seven business days to allow for additional shipping time.
Thank you very, very much for your support!