Bump Elliott
Welcome to Bump Elliott headquarters! Here we celebrate the legacy of one of the most accomplished and likable figures in Big Ten history: Chalmers "Bump" Elliott.
Chalmers "Bump" Elliott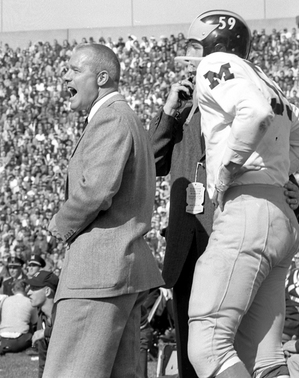 It is my great pleasure to announce that the definitive biography of Bump Elliott has been released! With the cooperation of the Elliott family, this book provides the ultimate look at one of the most humble yet successful men in the history of college athletics.
Bump Elliott left an indelible impact on three outstanding Big Ten universities. If you're a fan of the Hawkeyes, Wolverines, or Boilermakers – or if you just love Big Ten and college athletics in general – you'll want to read more about this extraordinary man! For more about the book, click here.
Online Ordering Instructions
You can purchase Bump Elliott: The Best of College Athletics here for $24.99 (with free shipping included!) There are two ways to order. To order online, just click on the PayPal link below.
Mail Ordering Instructions
You can also order by mail! Just mail your payment (by check or money order) to the following address:
Neal Rozendaal
13017 Wisteria Drive, #182
Germantown, MD 20874
And of course, be sure to include your return address where the book(s) can be sent!
Autographed and Personalized Copies
If you would like your book autographed and/or personalized, I would be happy to oblige! If you're ordering online, simply add the request in a note to the seller before you checkout in PayPal, or contact me here. If you're ordering by mail, just include a note with your payment. Please add a week to the standard shipping time for all autographed and personalized book orders.